Famous building
Residential complex of the Basin Partnership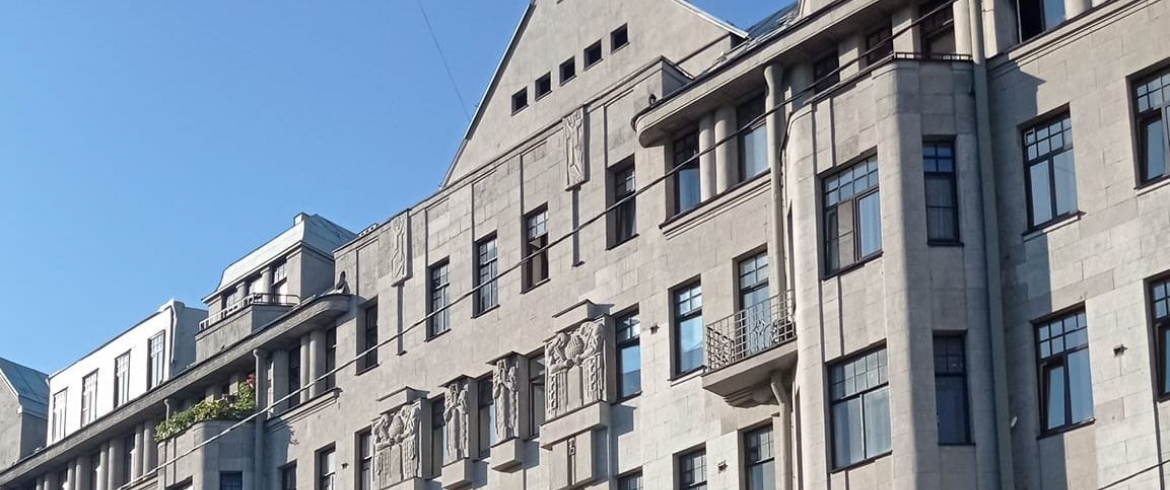 Address
Nekrasova st., 58-60 / Greek pr., 10-12
Years of foundation
1912–1914
Architects
A.I. Zazersky, E.F. Wierrich, N.V. Vasiliev, A.F. Bubyr
Style
Northern Art Nouveau
The residential complex of the Basin Partnership can be recognized by the decoration with Assyrian motifs - this is the only such building in St. Petersburg. The house occupies a whole block between Nekrasov Street (former Basseinaya), Grechesky Prospekt, Vilensky Lane and Fontannaya Street.
The names of the streets Basseynaya and Fontannaya have their own interesting history. In these places in the XVIII-XIX centuries the Ligovsky Canal ended, through which drinking water was delivered to the center of St. Petersburg, including for the fountains of the Summer Garden. The canal, built in 1718-1721 according to the project of engineer G.G. Skornyakova-Pisareva, started southwest of the city by the river League (now Duderhofka) and led here to the artificial pool on the corner of Basseynaya Street, and then the water flowed into the Summer Garden through pipes. On September 10, 1777, the fountains of the Summer Garden were destroyed, the canal lost its significance, however, it existed until the beginning of the 20th century. Now Ligovsky Prospect runs along the canal.
But back to the house of the Basin Partnership. Until 1908, on this site were the wooden buildings of the Life Guards Preobrazhensky Regiment and the wooden theater "Olympia", where operas and operettas were staged. Sobinov and Vyaltseva sang here. At the beginning of the 20th century, the theater burned down.
In 1909, engineer A.I. Zazersky organized a "Partnership for the Installation of Permanent Apartments" to combat housing needs. The development plan for the site facing Nekrasova Street and Grechesky Prospekt, together with Zazersky, was developed by architect E.F. Wierrich, architects N.V. Vasiliev and A.F. Bubyr, as well as V.N. Pyasetskiy participated in the construction - it was from his drawings that Assyrian reliefs on the facades were created.
The facades of a gray six-story house in the Northern Art Nouveau style are solved in asymmetric large forms with a rustication of the lower floors.
The house was intended for the middle class and was equipped with the latest at that time word of science and technology. The project included elevators not only on the main but also on the back stairs, central water heating and hot water supply, central ventilation and a central dust suction station, a mechanized laundry room.
The premises on the ground floor housed shops, and in the seventh, attic, floor - a hall for general meetings of members of the cooperative.
In 1914-1922, the poetess Irina Odoevtseva lived in this house, the house is described in her book "On the Neva." Nikolai Gumilev and George Ivanov were guests here.