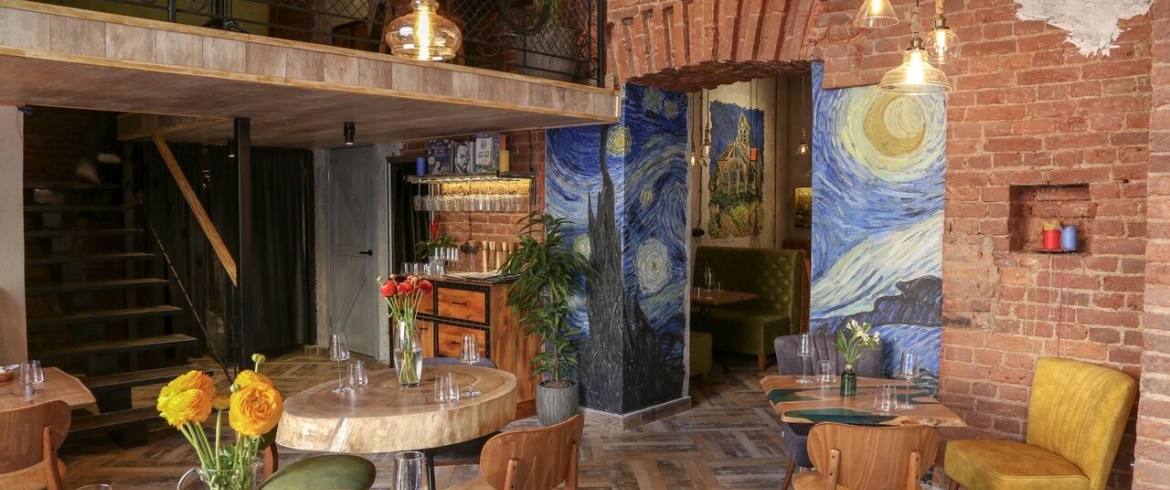 Address
Malaya Konyushennaya st., 7
A two-storey wine restaurant from the famous Tea House chain. Interior design, dishes and menus refer to the works of the artist Van Gogh.
The author's menu focuses on dishes that are combined with wine, and not only traditional tapas are served here, but also full-fledged hot dishes. Snacks - cheeses, ham, salami, hummus, pate, bruschetta, pinchos, dried tomatoes and artichokes - can be ordered either individually or as a large set for 2,700 rubles.
The wine list has about 50 items, of which 20 are poured into glasses. A glass of wine costs from 200 rubles. Every day from 4 pm a sommelier works in the restaurant.
The restaurant collects wine corks with the wishes of the guests and plans to hold themed evenings with tastings. In summer, there will be an open terrace overlooking Nevsky Prospect and Kazan Cathedral.
Popular dishes:
Tapas: from 170 rub.
Beef tartare with oyster emulsion and wild garlic oil: 380 rub.
Beef flap with kimchi cabbage and peanuts: 510 rub.
Catfish with fennel and vermouth sauce: 490 rub.
Spelled and mushrooms: 420 rub.
Linguine with duck rieta, gin and suluguni mousse: 450 rub.