Famous building
University of Technology and Design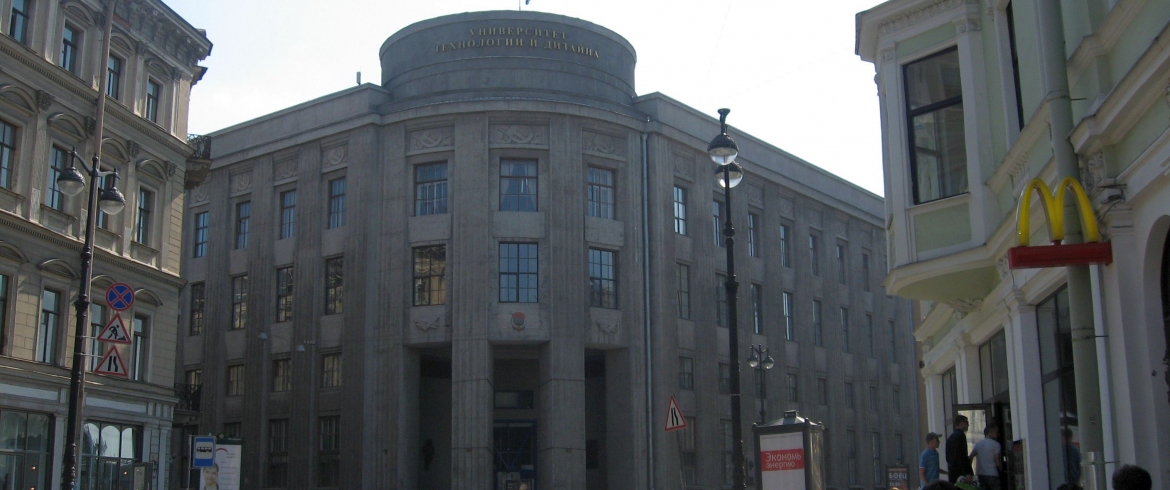 Address
Bolshaya Morskaya st., 18 /Kirpichny per., 5
Years of foundation
1915-1917, 1929-1931
Architects
L.N. Benoit and F.I. Lidval (bank building), L.V. Rudnev and Ya.O. Svirsky (university building)
The SPbGUPTD building occupies the quarter between Bolshaya Morskaya Street, Brick Lane and the Moika River Embankment. In the XVIII century, here, on the river bank, there was a pier, where barges with a brick were unloaded (hence the name of the alley). And on the left side of the Big Sea in the time of Peter the Great was the Sea Market - meat and fish rows.
In the late 1730s, stone baths were erected on the site of the future university building, and in the 1740s a one-story house with a basement of 12 windows overlooking the Bolshaya Morskaya. It was one of the largest houses on the street. One hundred years later, it was rebuilt into a five-story building.
In 1915, construction of a house for the Russian Bank began at this place. According to the original project, it was supposed to be a modernist house with marble and granite cladding. But the 1917 revolution stopped construction. The unfinished house was empty until the 1920s, until in 1929 it was transferred to the Textile Institute.
In 1929-1931, the building was completed for the institute according to the project of architects L.V. Rudnev and Ya.O. Svirsky.
Today, the university located in the building is called the St. Petersburg State University of Industrial Technology and Design.