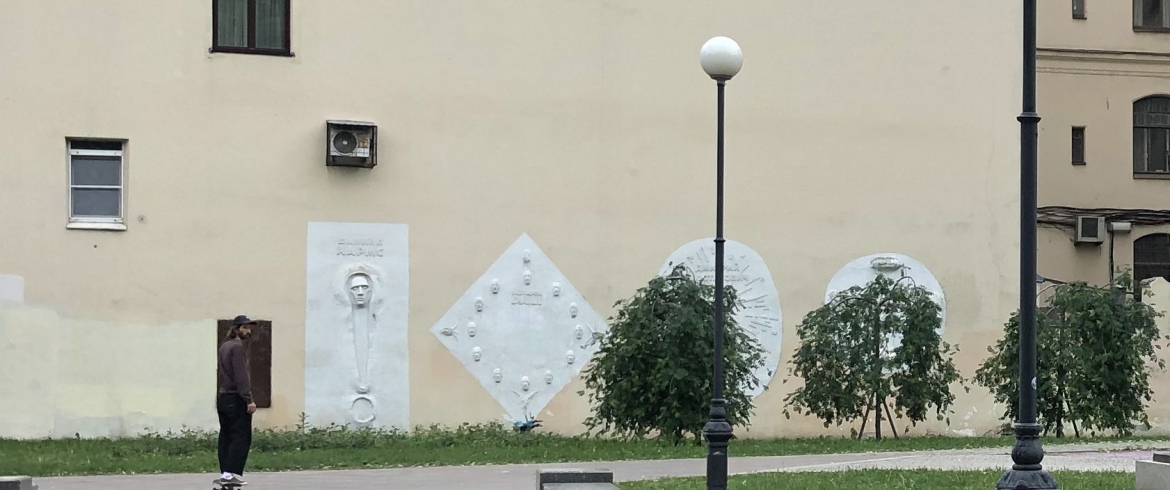 Address
Kamennoostrovsky Ave, 26-28
Opened in
December 28, 2004
The wall of the centuries is the creation of the famous St. Petersburg artist Kirill Miller, located on the wall of the house 26-28 along Kamennoostrovsky Prospekt. These five bas-reliefs are dedicated to famous personalities and created for their centenary as a symbol of the interrelation of cultural traditions of XX century.
The first to appear was a monument to Salvador Dali. It is made in the form of twelve identical portraits of the artist, located on a diamond in a circle, resembling a kind of stone clock without arrows.
Nearby there is a memorable sign to the outstanding scientist- philologist and public figure Dmitry Sergeevich Likhachev, opened in January 2006. The scientist's picture is located in the center of the cross of the four scrolls.
A commemorative sign created by the artist for the centenary of the great composer Dmitri Dmitrievich Shostakovich, who lived in this house, depicts a portrait of the composer, from which numerous rays of different lengths diverge. It was opened on September 12, 2006.
Two bas-reliefs are devoted to Daniil Kharms that were opened in 2005. On the first, made by Cyril Miller, the head of the writer is on top of an exclamation mark, a symbol of speech energy. The author of the second bas-relief is the Canadian sculptor Leo Mol. Daniil Kharms is depicted in profile, with a pipe in his mouth and hands in the pockets of his trousers.