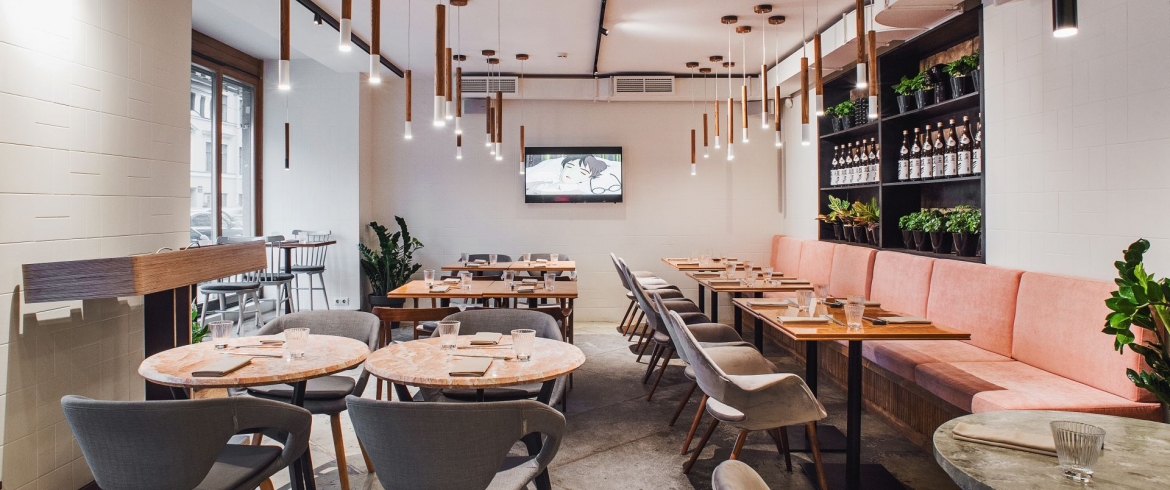 Address
Belinskogo st., 5
Monday, Tuesday, Wednesday, Thursday, Sunday
12:00 – 23:00
Friday, Saturday
12:00 – 01:00
The Izakaya bar with sushi, hand and fresh rolls, snacks by Gungeji Hiroyuki and the sake line - a pilot project of the Ginza Project in the trend for new Japan.
The diner with a large menu of modern Japanese cuisine, a moderate average check and floor windows promises to be an indispensable pit stop on this restaurant highway. The main part of the menu was set by the Japanese chef Gunji Hiroyuki, a New York star and the keeper of the authenticity of his native cuisine. For sushi and rolls Edward Kim is responsible, whom St. Petersburg food is known as the permanent guardian of Japan in the menu of the Ginza restaurant. Ginza Project suppliers deliver premium seafood and fish to restaurants: the logistics of a large restaurant group allow you to have the freshest products in the diner, but offer them at affordable prices.
Sushi in the diner costs from 90 to 190 rubles for two pieces. In addition to sushi, guests can enjoy spicy soups and hot dishes, sashimi and spicy New Style sushi by Alexander Kahn. The main menu items are chicken tonkatsu (390).
The wine list was compiled by Sommelier Sonya Shepeto, in 2018 at the Russian Wine Awards awarded for the card of The Repa restaurant. For the Snetki eatery, she gathered a lot of excellent positions in the category from 900 to 2500 rubles, but for connoisseurs of the first grand cru wines, there are also some options. The Asian beverage lobby is represented by plum wine, Chinese craft beer, Vietnamese natural juices, Japanese whiskey and gin. In the sake line - a dozen items; be sure to try sparkling sake - this is a cool, unlike anything else drink: elegant, light, fruity-floral.
Popular positions:
Sushi with tiger prawns and Scottish salmon: 120 rubles.
Sushi with dorado and Sakhalin scallop: 160 rubles.
Sushi with tuna and spicy miso soup: 490 rub.
Sushi with avocado mousse and truffle: 290 rub.
Soups: 90-290 rub.
Wafu steak: 690 rub.
Романтический ужин на воде с изысканным меню и живой музыкой
Круизы по Неве на теплоходах-ресторанах
Купить билет