Famous building
Petersburg SCC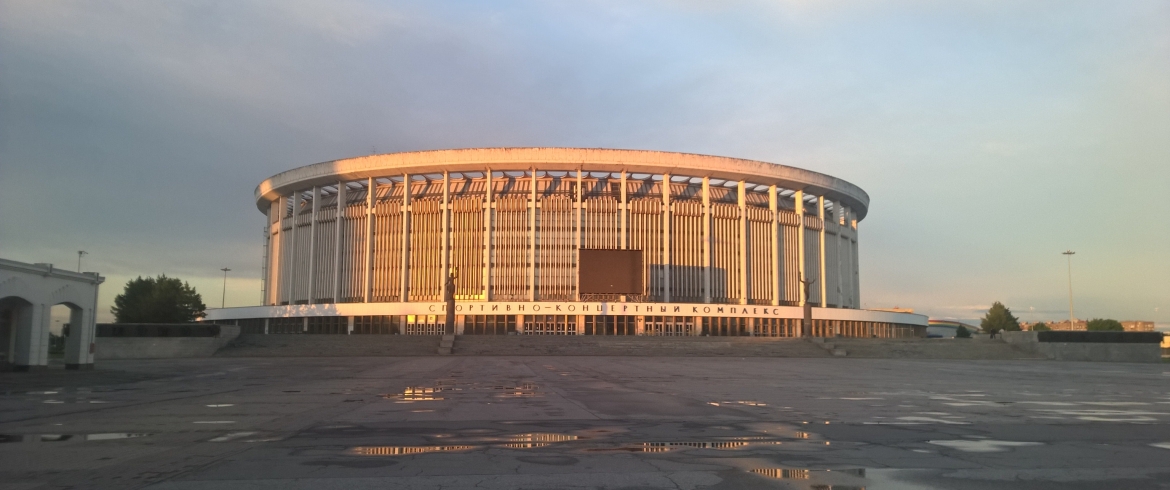 Architects
I.M. Chaiko, N.V. Baranov, F.N. Yakovlev
A large sports palace in the Moscow area was planned to be built in the 1960s. Designing began in the 1970s, around the Moscow Olympics-80, and on May 19, 1980 its grand opening took place. The SCC was given the traditional name for grandiose projects of the Soviet times - name of V.I. Lenin. In 1993, he was renamed into the SKK "Petersburg", and later - to the St.Petersburg SCC.
The SCC has become one of the largest sports complexes in the USSR and even in Europe, second only to the Olimpiysky Sports Complex. The total area of the St. Petersburg SCC is more than 50,000 sq. m., capacity of the hall - 25 000 spectators.
The cylindrical building of the St. Petersburg SCC was located in the center of a large meadow, the central entrance facing Moscow Victory Park. The design is supported by 56 columns, on which the rings that hold the steel membrane of the overlap are fixed.
From the entrance to the building a three-story staircase descends, on both sides of which nine-meter sculptures "Sport" and "Art" by the sculptors V.L. Rybalko, G.K. Bagramyan and N.A Gordievsky are installed. In front of the building there are cash desks on both sides.
After the Ice Palace was erected in 2000 in St. Petersburg, sports competitions in the SCC are not held. They gave way to exhibitions and fairs, festivals and concerts, including world-famous performers and groups.
For almost 40 years of its existence the St. Petersburg SCC has become obsolete physically and morally, and a large-scale reconstruction planned planned to be done before the World Hockey Championship in 2023.