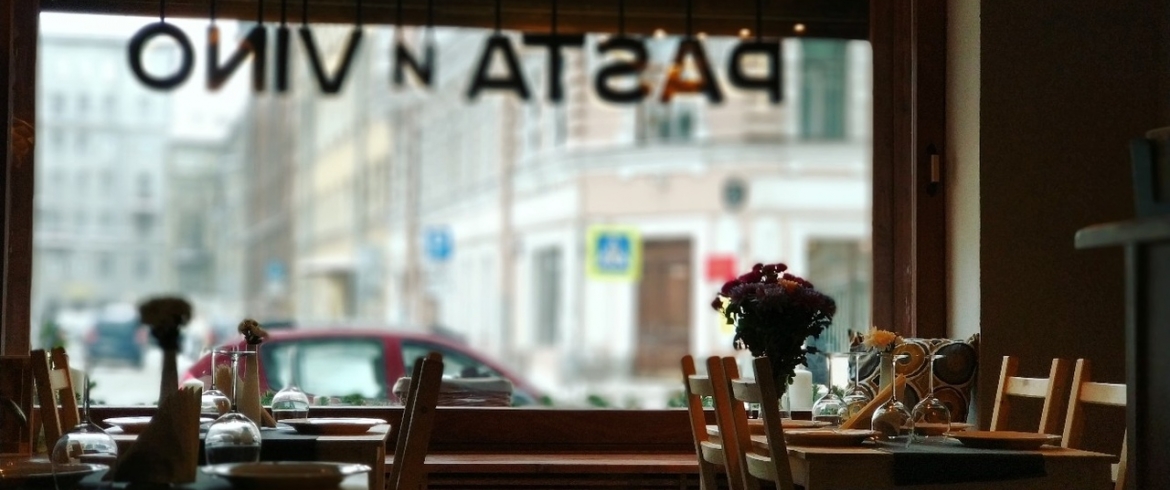 Address
Gorokhovaya st., 54
Monday, Tuesday, Wednesday, Thursday, Sunday
12:00 – 22:00
Friday, Saturday
12:00 – 23:00
Cuisine
Italian, European
Cozy Italian restaurant Pasta and Vino, designed in the style of family cafes, offers guests homemade pasta and young wines, seafood and Mediterranean delicacies. Special feature of the place is really big portions.
The interiors of the hall, designed for 30 visitors, are distinguished by simplicity and freedom. On the windowsills - candles and decorative dishes, and living plants add freshness. The hall is lit by elegant lamps in the form of cones of Lebanese cedar, and the combination of matte black hues and warm gold lacquered wood makes a simple solution elegant and stylish.
The menu consists primarily of homemade pasta, which is made from durum wheat, adding pesto and cuttlefish ink. Here beef tartare, Provencal seafood soup, Kentucky fettuccine and lasagna bolognese, seafood linguine and ravioli 4 cheeses, salmon steak on a pillow of vegetables, pizza and focaccia, bruschetta and antipasti snacks are served. The restaurant prepares refreshing homemade lemonade, tiramisu with blueberry jam and fine ice cream.
You can wash down the past with draft beer at 270 rubles for a glass, But you can also come with your own alcohol - a cork fee is 300 rubles.
The restaurant offers a business lunch menu and a special menu for children. You can hold an event in the cozy hall or enjoy the view from the huge windows. Regular updates of the menu and discounts for guests on new items is a nice bonus.