Monument
Monument to Nicholas Roerich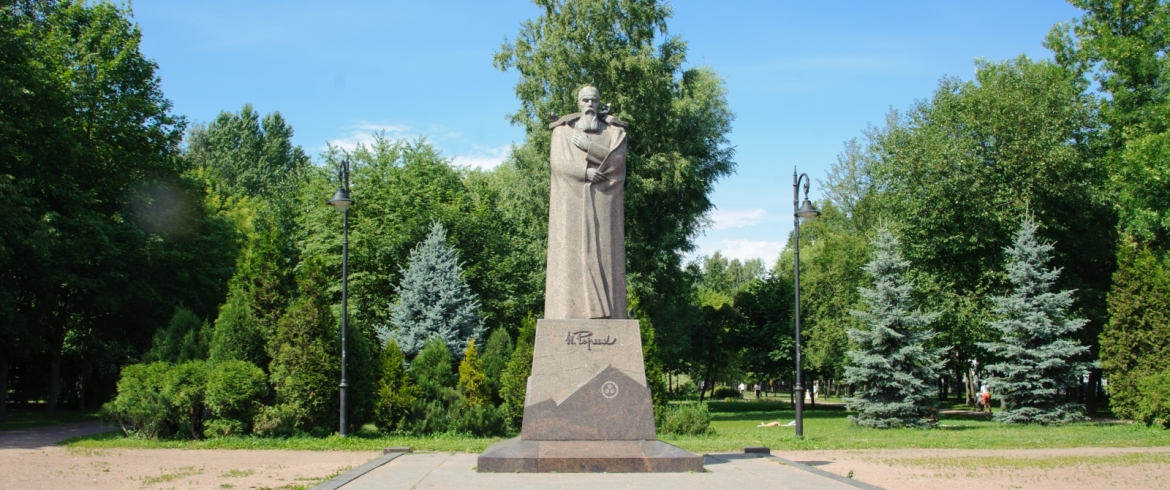 Address
24th Line of V.O, garden "Vasileostrovets"
Opened in
November 9, 2010
Sculptor
V.V. Zayko / Yu.F. Kozhin
The place to install the monument was chosen not by accident. A significant part of the life of Nicholas Roerich is associated with Vasilievsky Island. The artist was born on September 27 (October 9), 1874 in St. Petersburg, on the University Embankment. A gymnasium of K. May was located there, where he received his secondary education. Then Roerich studied simultaneously at the Academy of Arts and at the Faculty of Law in St. Petersburg University. When Nicholas Roerich was a student, he participated in the activities of the Imperial Russian Archaeological Society. Also on Vasilevsky Island in the church of the Imperial Academy of Art a wedding of Nicholas Roerich and Helena Shaposhnikova was held.
The figure of the philosopher that is made of Karelian granite allegedly bears a heavy load, depicted by the sculptor in the form of a stylized stone cloak, which gives the monument the form of a column tapering upwards. The whole structure is placed on a granite platform in the central garden lawn.
Индивидуальные экскурсии по городу и пригородам на автомобиле и минивэне
Петербург для тех, кто ценит комфорт и внимание
Заказать