Monument
Monument to the cat at the First Medical University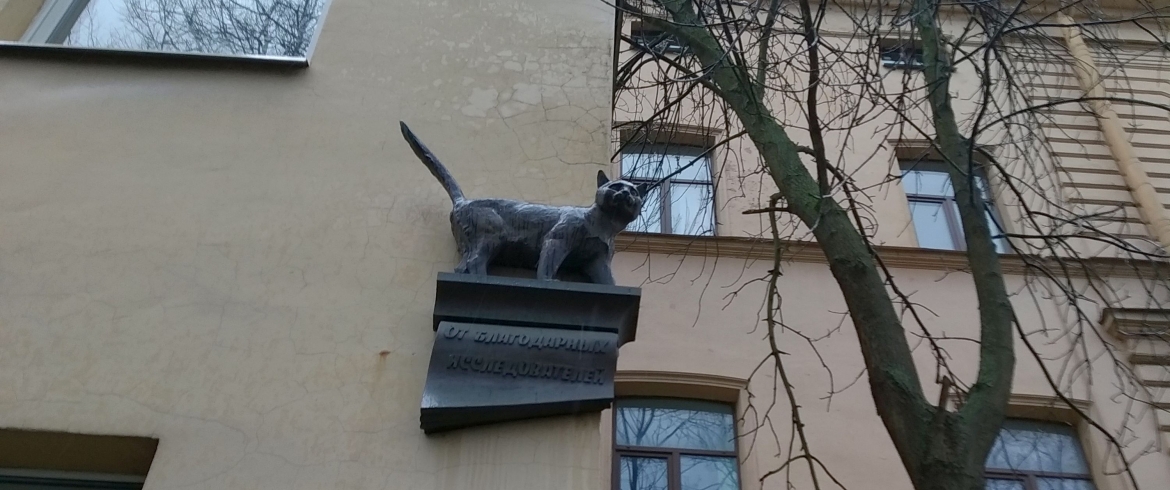 Address
Leo Tolstoy st., 6-8, building 3
Sculptor
N.M. Kazarnovsky
The monument to experimental cats, who made a great contribution to scientific research, is installed on the facade of the Third building of St. Petersburg State Medical University, where once there was a laboratory of cerebral circulation, and now there is a department of biochemistry.
Man and cat have a similar anatomical structure and physiological regulation of blood circulation in the brain and spinal cord. Therefore, it was cats that were often used to create experimental models of various diseases in humans and to develop treatment regimens.
The initiative to create a monument to the mustached scientists' assistants was made by the Department of Neurology and Neurosurgery. The sculpture was created by N.M. Kazarnovsky, the opening took place in the summer of 2014.
A small cat is standing on a pedestal fixed at the level of the second floor. The inscription on the pedestal reads: "From grateful researchers."
Unlike the cat monument in the courtyard of the philological faculty of St. Petersburg State University, open to tourists only once a week - on Saturdays, everyone can freely see this monument. The third building of St. Petersburg State Medical University is located near Leo Tolstoy Street, next to the main building.
Индивидуальные экскурсии по городу и пригородам на автомобиле и минивэне
Петербург для тех, кто ценит комфорт и внимание
Заказать