Monument
Monument to the St. Isaac's Bridge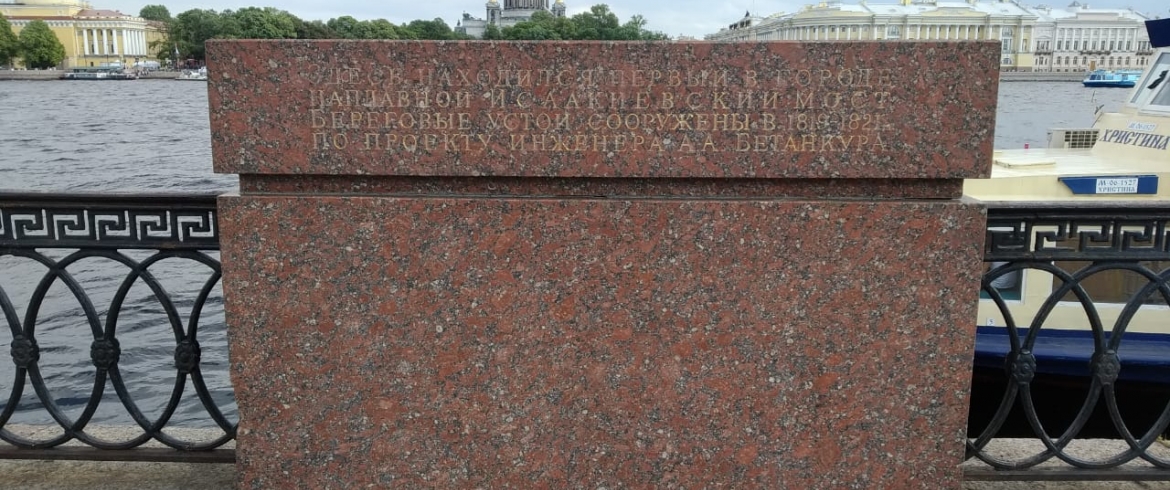 Address
University embankment, 13
Isaakievsky Bridge is a not preserved wooden floating bridge across the Bolshaya Neva. Almost 200 years, from 1727 to 1916, with interruptions, it connected Vasilievsky Island with the central part of the city. The bridge, mounted on barges, was located in the alignment of the Senate Square and got its name from the church of St. Isaac Dalmatskiy, which stood there, where the Bronze Horseman is now.
On July 11, 1916, a ferry burned from the spark passing through the Neva tow, and on December 23 of the same year, the St. Isaac's bridge was replaced by a permanent Palace Bridge built upstream. There are coastal foundations with granite facing and rounded staircases at the Admiralteyskaya and Universitetskaya embankments that were saved from the Isaakievsky bridge.
In memory of this crossing in 1991 on the University embankment, a memorial plaque was built: "Here was the first floating Isaakievsky bridge in the city. Coastal foundations were built in 1819-1821 according to the design of engineer A.A.Betancourt. "
Индивидуальные экскурсии по городу и пригородам на автомобиле и минивэне
Петербург для тех, кто ценит комфорт и внимание
Заказать