Famous building
Orthopedic Institute and Church of the Savior the Healer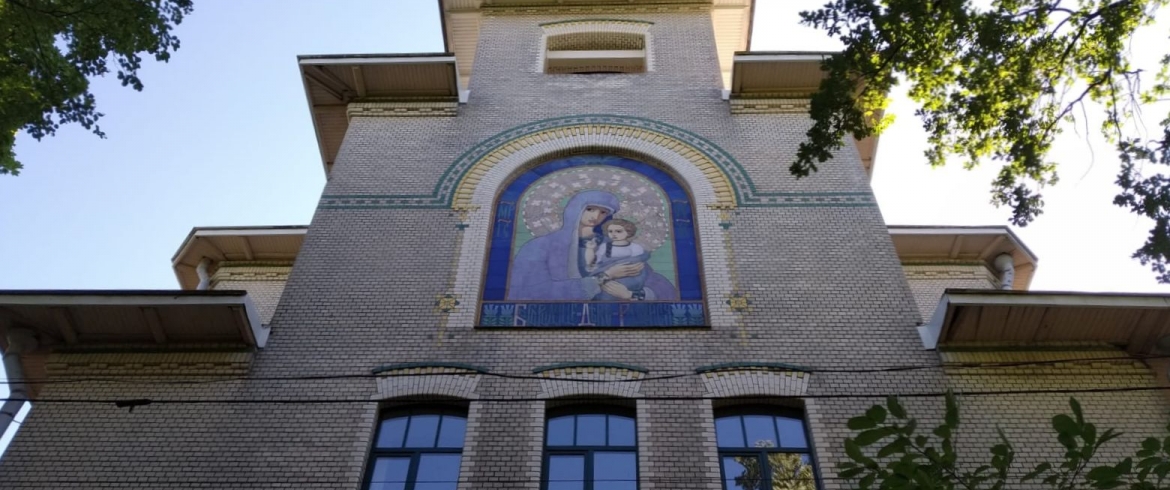 Address
Alexandrovsky park, 5
Years of foundation
1902–1906
The building of the Orthopedic Clinical Institute in the Alexander Park was built in 1902-1906 according to the project of the architect R.-F. Meltzer.
In the last quarter of the 19th century there was a city tree nursery at this place. In 1901, by decree of Empress Alexandra Feodorovna, the City Duma allocated a plot of land for the construction of a model orthopedic medical institution. The director of the first orthopedic institute in Russia was the outstanding doctor, founder of operative orthopedics R.R.Vreden.
The main building of the institute is made in modern style. The basement is finished with gray granite, all the facades above the basement are light glazed bricks. The stairwells in the side wings of the building are decorated with giant stained glass windows with a height of more than 10 m.
The facade of the institute was decorated with one of the earliest majolica in St. Petersburg buildings - "Our Lady with the Baby", made according to the sketch of the artist K.S. Petrov-Vodkin in 1904. This is the first work of Petrov-Vodkin, and was discovered by the artist - architect R.-F. Meltzer. He found a talented guy in Khvalynsk on the Volga who painted signs, and brought him to St. Petersburg.
In the base part of the middle wing, the Church of the Savior the Healer was created with a belfry and onion head on a thin drum. The church dome, iconostasis and icons painted by K. S. Petrov-Vodkin were lost in the 1920s. In 2016, the dome was recreated.
In Soviet times, the Institute building housed the Research Institute of Traumatology and Orthopedics in the name of R.R.Vreden, today it is occupied by the North-Western branch of the Russian Academy of Justice. An Orthodox church operates in honor of St. Sergius of Radonezh.