Famous building
Moscow station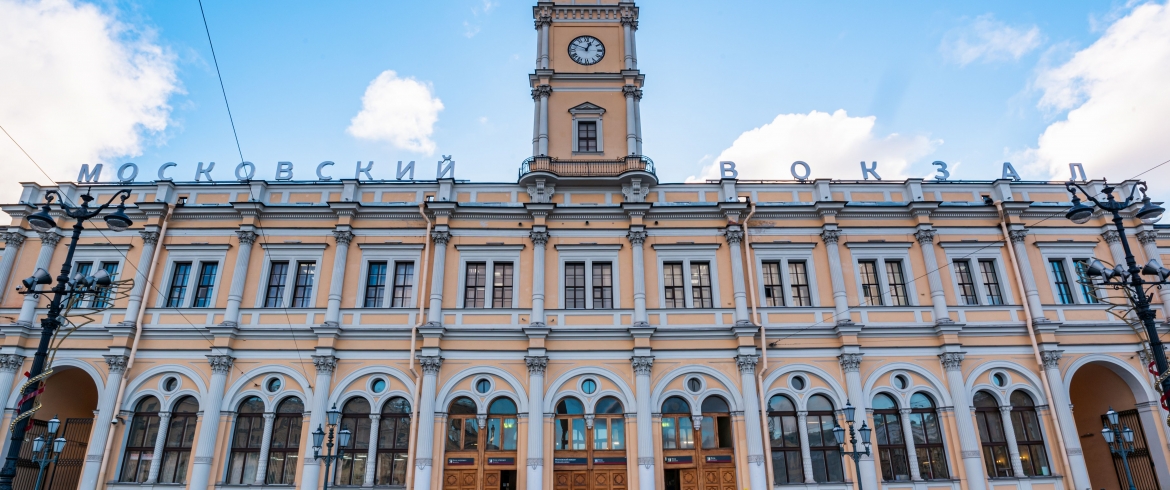 Address
Nevsky prospect, 85, the area of the Rebellion (Vosstaniya)
The building of the Moscow railway station appeared in 1844-1851 according to the project of the architect K.A. Tone. This is the "twin brother" of the St. Petersburg (now Leningrad) railway station that he built in Moscow. In the architecture of the station, K.A. Tone used the elements of the town halls of the cities of Western Europe. The building of the station is semicircular in plan, above the main entrance is a tower with a clock, it indicates the direction of the main entrance.
In 1868, in connection with the increased passenger traffic, the reconstruction of the Nikolaevsky railway station has begun. A two-story wing for luggage was attached to it, and the right wing of the building was connected with the royal chambers. Later, from the side of Ligovsky Prospekt, a brick building of the Nikolayevskaya Railway Department was erected.
In 1923, with the renaming of the Nikolayevskaya railway to Oktyabrskaya, the same name was given to the station. But in 1930 it became Moscow station.
In the late 1950s, the building of the Moscow railway station was reconstructed according to design of the architect V.I. Kuznetsov. To its right wing from the side of Ligovsky Prospekt, there was built a new outbuilding with the second vestibule of the metro station "Ploshchad Vosstaniya".
In 1967, a new light hall was opened, thanks to which the station's area increased by 2700 square meters. In the center of the hall was a monument to V.I. To Lenin. In 1993, it was replaced by a monument to Peter I by sculptors A.S. Charkin and V.V. Olenev.