Famous building
Moscow District Council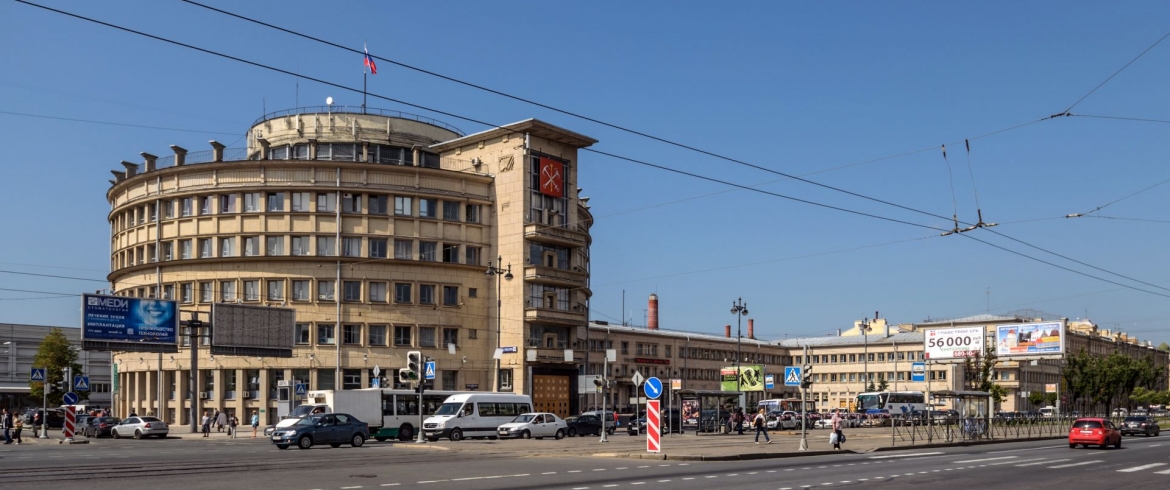 Address
Moskovsky pr., 129
Years of foundation
1930–1935
Architects
I.I. Fomin, V.G. Daugul, B.M. Serebrovsky
Style
Constructivism with Art Deco elements
A round constructivist building of the district administration stands out on Moskovsky Prospekt between the stations "Moskovskie Vorota" and "Electrosila". It was built in the early 1930s according to the project of architects I.I. Fomin, V.G. Daugul and B.M. Serebrovsky after in 1930 the Moscow-Narvsky district was divided into two: Moscow and Kirovsky.
The architecture of the building combined functionality and originality of the imaginative solution. The building is emphatically asymmetrical to the horizontally extended body is adjoined by the southern wing of an unusual cylindrical shape. Inside it is a large hall covered with a dome. The bath was originally conical in shape, but it was rebuilt in the 1970s.
Inside the cylindrical building, according to the architects' plan, the most visited departments were collected. They were placed around the outer perimeter and tied in circular galleries that circumambulate the glazed atrium.
The general scheme of the structure is a main compact volume extended to the flank and two mutually perpendicular hulls. The recessed space between the side parts has been transformed into an open courtyard courtyard. The relief treatment of the walls, stone portals and decorative details somewhat blur the severity of constructivism with elements in the spirit of Art Deco.