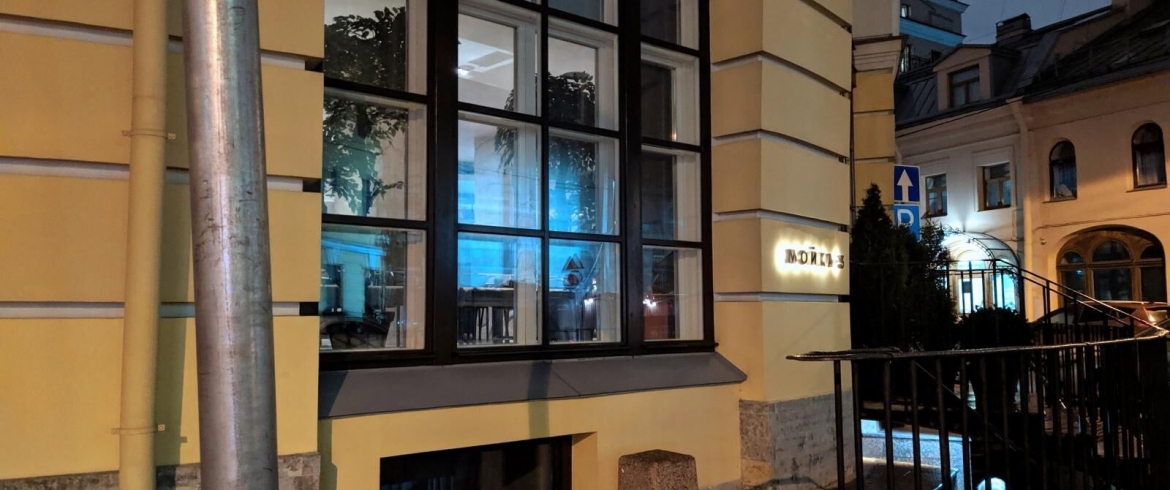 Address
Moika River emb., 3
Monday, Tuesday, Wednesday, Thursday, Sunday
12:00 – 23:00
Friday, Saturday
12:00 – 01:00
Cuisine
Russian, European
The restaurant of Russian cuisine, the Blue Horse bar and the jewelry and souvenir shop 22.13 Gift - all this is located in the historic building of the Round Market, built at the end of the 18th century according to the project of J. Quarenghi.
The owners of the restaurant, the Banshchiki restaurant team on Degtyarnaya Street, made up a menu of world gastronomic hits with a Russian accent in the author's performance. The wine list contains European and Russian wines, about 70 items, of which 15 are poured into glasses (from 320 rubles per glass).
The interior of the institution was developed by the Russian-American avant-garde design bureau Crosby Studios. The Russian accent is emphasized by bas-reliefs depicting the heroes of the tales of Saltykov-Shchedrin.
Breakfast is served in the restaurant all day. On Fridays and Saturdays at Moika 3, there are parties with dances and DJ sets.
Popular dishes:
Borodino bao with pastrami, porcini mushroom sauce and light-salted cucumber: 390 rub.
Buckwheat hummus with caviar from white breasts: 320 rub.
Borsch with Borodino bread and lard: 390 rub.
Kiev truffles with mushroom sauce, onion mousse and mashed potatoes: 540 rub.
Veal tenderloin with bacon, beans, fried oyster mushrooms and truffle sauce: 690 rub.