Famous building
Mikhailovsky theater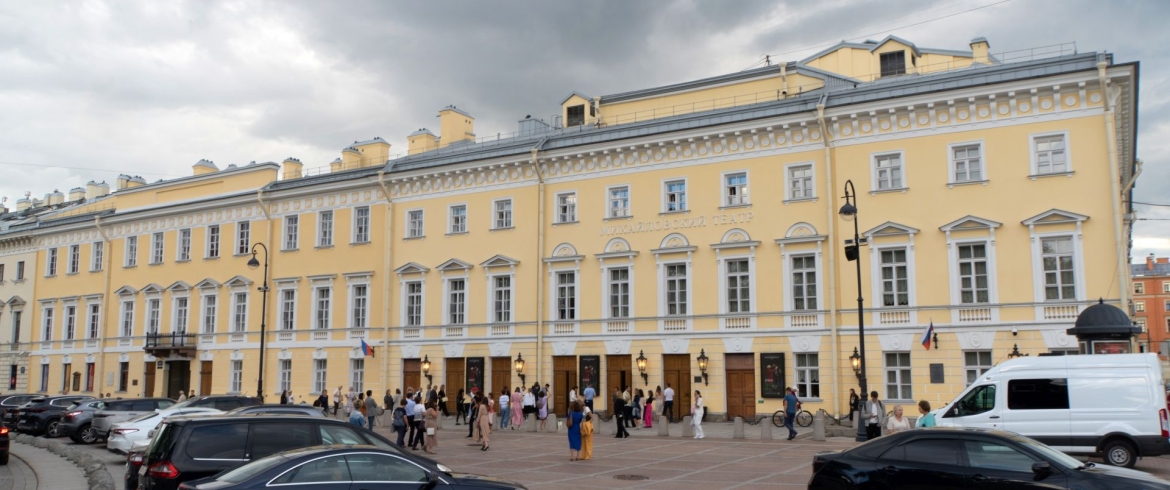 Years of foundation
1831–1833
On November 8, 1833, the Mikhailovsky Theater in St. Petersburg was opened with the ballet Cupid in the Country and V. Karatygin's vaudeville "Familiar Strangers".
The brilliant history of the Mikhailovsky Theater began with the choice of an architect for the building. It was the art connoisseur Alexander Pavlovich Bryullov, who entered the theater into the established ensemble of Mikhailovskaya Square, created by Carl Rossi.
The square, organized around the Mikhailovsky Palace, according to Rossi's plan, was surrounded by three-storey residential buildings. Therefore, Bryullov gave the theater the appearance of a residential building. The fact that the theater is hidden behind a modest facade can only be guessed by the roof, where a tall stage box is visible behind the dome above the auditorium. All the brilliance of the imperial theater is contained within: silver and velvet, mirrors and crystal, painting and stucco.
The auditorium had a horseshoe shape in plan. The four visual tiers rested on slender cast-iron columns and brackets. The polychrome ornaments of the plafonds and walls reproduced the motives of the Pompeian paintings.
In 1859, the architect Albert Kavos, who was in charge of the city's musical theaters, rebuilt the building, expanded the stage and added a fifth tier to the auditorium. Baroque elements appeared in the interiors - stucco molding, caryatids above the proscenium. It was then that the ceiling of the Italian artist Giovanni Buzatto "The Victory of the Forces of Education and Sciences over the Dark Forces of Ignorance" appeared in the Mikhailovsky Theater. These interiors have survived to this day.
The theater was attended by the entire Petersburg world, including the court and the imperial family. French and German troupes performed on the stage of the theater, and maestro Johann Strauss was the conductor more than once. After the 1917 revolution, foreign actors were forced to leave the country, and for the Mikhailovsky Theater the question of forming its own troupe arose.
On March 6, 1918, the theater opened a new season in the role of the second state opera house in Petrograd; in 1920 the theater was named the State Academic Theater of Comic Opera; in 1921 it was renamed the Maly Academic Theater, and in 1926 - the Leningrad Academic Maly Opera Theater (MALEGOT). On its stage were the operas "The Nose" and "Lady Macbeth of the Mtsensk District" by Dmitry Shostakovich, the innovative "The Queen of Spades" by Vsevolod Meyerhold, after the war the Maly Opera and Ballet Theater staged Sergei Prokofiev's "War and Peace" for the first time in the world.
In 1989 the theater was named after Modest Petrovich Mussorgsky, and Russian classics took the leading role on the stage. In the XXI century, the theater returned its historical name, and today it sounds like this: St. Petersburg State Academic Opera and Ballet Theater named after M.P. Mussorgsky - Mikhailovsky Theater.