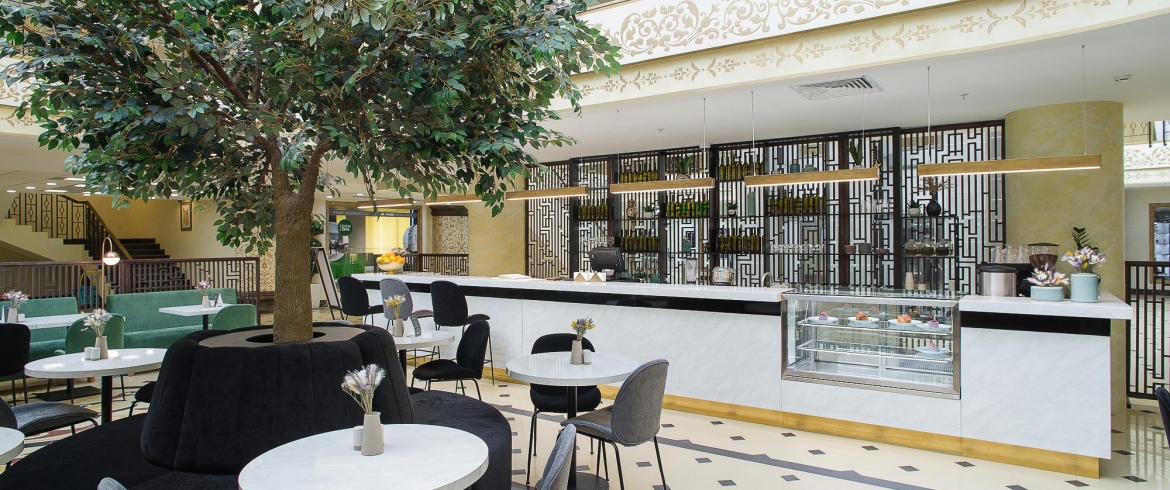 Weekdays
09:00 – 20:00
Weekend
Closed
The restaurant in the atrium of the Preobrazhensky Dvor business center is designed for business people: it works only on weekdays and closes at eight in the evening. You can come here for breakfast, business lunch or just a friendly conversation over a cup of coffee. The menu includes dishes of Russian, European and Asian cuisines, coffee and tea, juices, soft drinks.
The interior of the institution is made in light, bright colors. The whole space is built around a bright dominant - a green tree in the center of the hall.
Prices on breakfast:
French breakfast (scrambled eggs / two boiled eggs / sunnyside from two eggs + croissant): 250 rub.
English breakfast (scrambled eggs from two eggs, bacon, sausages, beans, mushrooms, mixed salad, new potatoes, toast): 350 rub.
Country breakfast (porridge to choose from + syrniki with sour cream and jam): 390 rubles.
A cup of espresso or americano costs 120 rubles, and if ordered for breakfast - 80 rubles.
Business lunch is served in two versions, two dishes and a drink for 320 rubles or three meals and a drink for 390 rubles.