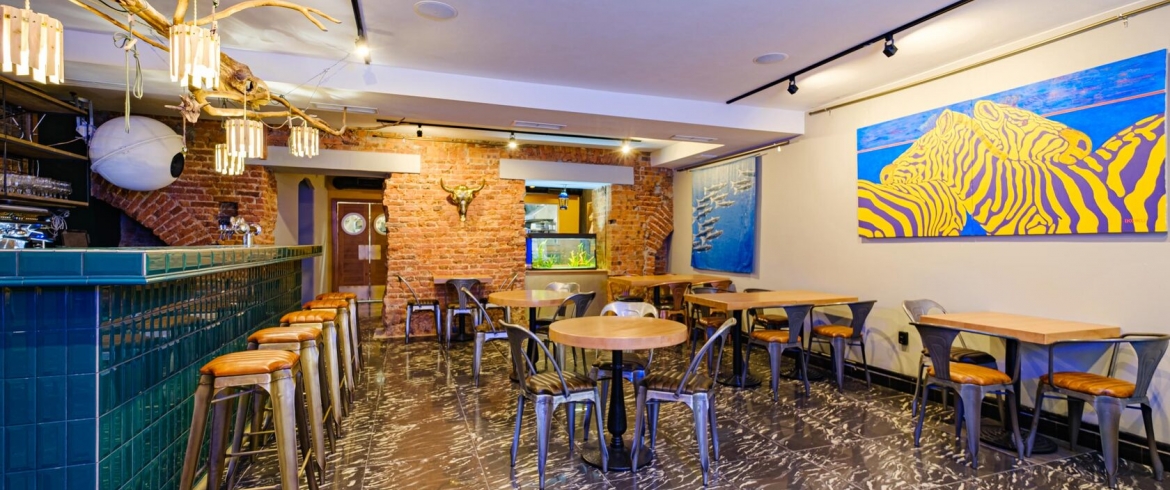 Address
Galernaya st., 18
A legendary establishment that has been in existence since 1996. Then the Crocodile bar was opened by its inspirer Dmitry Arlyuk, and the place became popular. Representatives of the creative elite liked to stop by here, such bright representatives of the St. Petersburg beau monde as Vladik Mamyshev-Monroe, Sergey Bugaev Afrika, Marina Albi, Irena Kuksenaite and many others were regulars.
25 years later, Dmitry decided to revive the once popular project and, together with his son Mikhail Arlyuk, breathe new life into it.
Today's Crocodile is a symbiosis of the past and the present. The authors of the project combined in it the charm of former aristocracy with the current realities of today.
Chef Alexander Tsoi brought to life traditional recipes of Korean, Thai and Japanese cuisines. Many of them, in a modern design, he was taught by his grandmother. Some of the dishes are his own creations.
When creating the cocktail menu, the chef bartender of the project, Farid Yashkov, based it on the style of Pan-Asian cuisine. Therefore, classic cocktails replayed into twists are taken as the basis, which are in better harmony with oriental cuisine.
The institution hosts interesting events: live concerts, games and tastings. Business lunches are served every weekday from 12:00 to 18:00, including a vegetarian one.
Popular positions:
Soup Tom-yum with shrimps and chicken breast — 460 rubles.
Rice with chicken and vegetables — 350 rubles
Udon noodles with seafood — 420 rubles
Teriyaki salmon — 580 rubles
Philadelphia roll — 450 rubles
Sweet roll with strawberry and banana — 390 rubles
Романтический ужин на воде с изысканным меню и живой музыкой
Круизы по Неве на теплоходах-ресторанах
Купить билет