Famous building
Grand Hotel Europe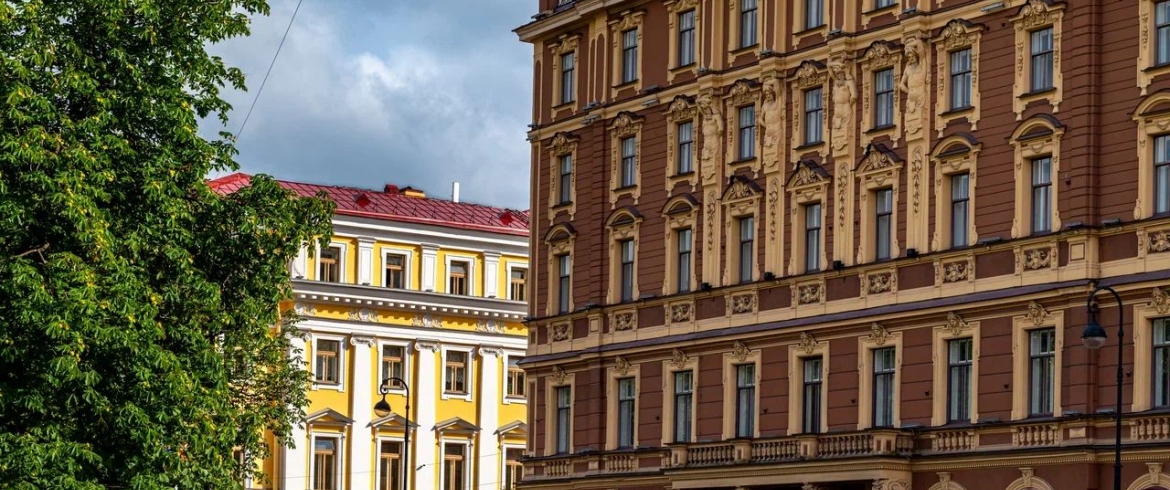 Address
Mikhailovskaya Str., 1
Years of foundation
1873–1875, 1908–1914
Architects
L.F. Fontana, F.I. Lidval
Since the 1740s, the site on which the hotel is now located belonged to the watchmaker I.G. Bergman, who erected a two-story house here. In the XVIII century, the site changed the owner more than once.
In 1824-1825, according to the project of K.I. Rossi, a new street, Mikhailovskaya, was laid from Mikhailovskaya Square (now Arts Square) to Nevsky Prospekt. According to the project of architects P.I. Gabertsettel and A.I. Melnikov a four-story profitable house of the merchant Rogov was erected here, and next to it the hotel "Russia" by G.K. Clay. In the 1830s, in accordance with the city plan of K.I. Rossi these houses were reconstructed. Their facades have acquired a classic appearance, becoming a continuation of a single ensemble of Mikhailovskaya Square.
In 1871, there was a severe fire, and the houses were acquired by the joint stock company "European Hotel". In 1873-1875, under the leadership of the architect L.F. Fontan the houses were rebuilt in a single building in eclectic style, and the hotel "European" was opened here. It was one of the most fashionable hotels in St. Petersburg.
In 1910 the building was rebuilt again according to the project of the architect F.I. Lidval, who added the fifth floor, changed the layout and partly the decoration of the premises. It is in this form that the building has survived to the present day. Today, the five-star Grand Hotel Europe is situated here.
One of the Petersburg legends is connected to the hotel. It says that some rich man who emigrated from Russia after the revolution, hid gold under the floor of one of the rooms of the hotel "European". In the Soviet era, the heir was able to come to Leningrad and settle in the same room. At night, he opened the floor and found under the parquet a metal box, reinforced with a powerful bolt. After waiting for the night and anticipating the wealth, the heir began to unscrew the bolt. By morning, the resistance of the metal was overcome, and there was a terrible rumble - in the restaurant on the floor below, the chandelier collapsed.