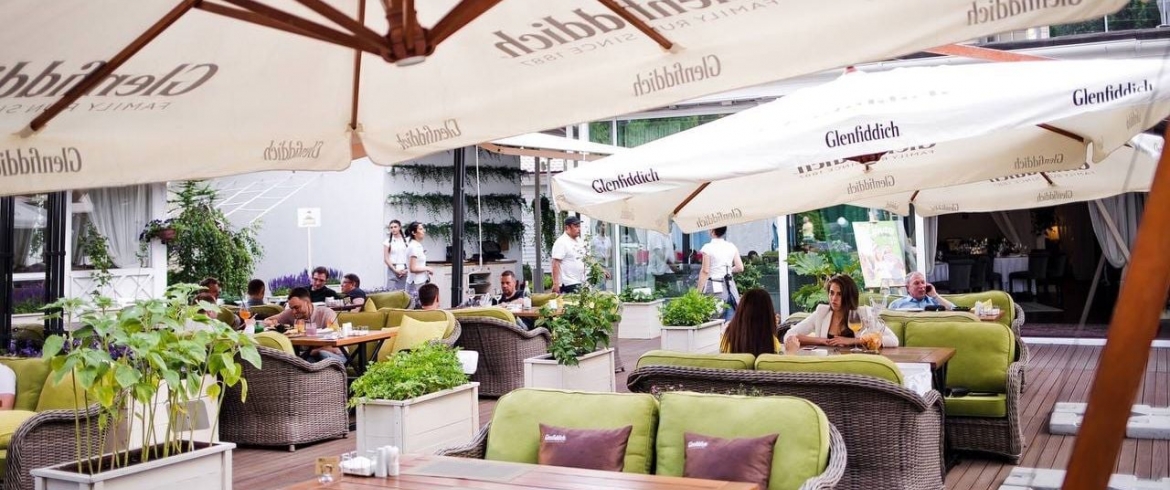 Address
Aptekarsky pr., 16
Cuisine
Russian, European, Asian
The flagship restaurant of the Ginza Project - the Ginza restaurant is located in a quiet part of the Petrogradskaya side on Aptekarsky prospect. The establishment is expensive but sophisticated.
The Veranda hall is solid: lacquered tables and emerald sofas shimmer under the elegantly draped ceiling, behind their high backs it is so convenient to hide from prying eyes. In the evenings, candles dream about something, wine languishes in the honeycomb walls: vintage champagne, noble Burgundy and Tuscan for connoisseurs.
The Terrace hall is cozy in the old style: green vegetation, carpets, chirping parrots in cages.
In summer, everyone goes to the "Lawn" - to the fresh air, where there are tents, a pond with goldfish and a picturesque vegetable garden. Barbecues are also fried here on weekends, and the lawn fills with the aroma of grilled meat.
Ginza is a holiday restaurant where any gastronomic dreams come true. The restaurant offers dishes of Japanese, European, Russian, Oriental cuisine - the quality will satisfy the most delicate taste.
The whole city has been coming here for fresh sashimi and temaki rolls for fifteen years; kaisen-don with tuna, a shrimp hid in a weightless tempura. How to resist a lush Uzbek tandoor cake stuffed with viscous suluguni, how not to try chebureks filled with meat juice or homemade lagman? If you come with a large company, take a leg of lamb or order an attraction - Japanese sukiyaki soup with shiitake mushrooms and a rare delicacy - marbled Japanese kobe meat.
Here they will cook pasta in a cheese head at your table or fry crepe suzette pancakes with orange juice sauce; add an Italian truffle to your morning omelet or cook a rack of veal with red wine sauce on a languid evening. For true gourmets, the restaurant has an aquarium with seafood delicacies - oysters by the piece and in dozens, healthy sea urchins, Kamchatka crab, which is steamed, grilled or baked with aromatic herbs. And the royal delicacy of His Majesty Lobster - Catalan style or prepared according to your wishes.
For sweets - an assortment of the most delicate eclairs or an assortment of fresh berries for those who appreciate the pure taste of the product.
Popular positions:
Steamed crab / grilled / baked with thyme - 1590 rubles
Beef tartare - 1290 rubles
Roast beef with pepper sauce and baked potatoes - 1990 rubles
Chicken breast kebab - 840 rubles
The macallan spritz cocktail - 1100 rubles
Red wine brunello di montalcino - tenute silvio nardi Toscana, Italy 375ml - 7200 rub.