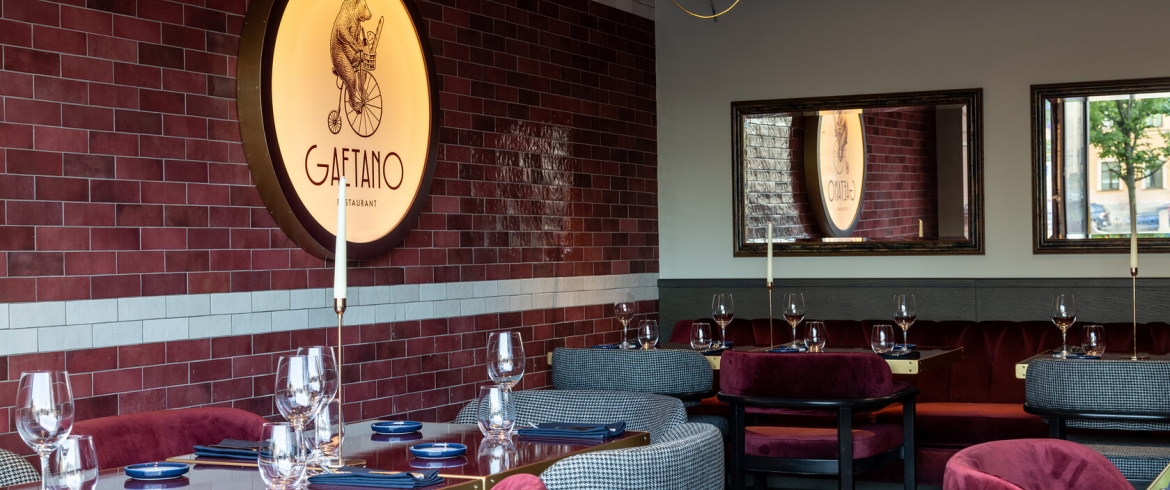 Address
Fontanka river emb., 5/2
GAETANO is an experimental cuisine restaurant where every dish is filled with the spirit and creative thought of today. This philosophy of the establishment is reflected in the design and identity of the restaurant, in the interior items, dishes, service standards and, of course, in the author's cuisine from the Brand Chef Anton Countechikov and the Chef Denis Shkrabo.
Chefs have moved away from the usual division of main dishes into fish, meat and poultry. The species of the key ingredient is not important, the weight and the severity of its taste are important. The presence of all possible combinations of these two characteristics in the selection of main dishes, sophisticated author's accents and elegant serving allow you to choose a dish that ideally suits your mood, situation and time.
It also serves fresh seafood, Neapolitan pizza with unusual toppings and several types of homemade pasta.
The GAETANO wine list was developed by Sommelier Natalia Timofeeva. It presents both wines produced on small farms by young winemakers, as well as more famous positions from big-name winemakers. The menu includes wines from Austria, Germany, New World, Russia and France. They are served in the restaurant by the glass and are also offered to guests in bottles.
The author of the wine list assures that the combination of seafood and fish with red wine is very interesting and will appeal to fans of gastronomic experiments.
Popular positions:
Dibba Bay oysters - 330 rubles
Bruschetta with crab and avocado - 450 rubles
Beef tartare with truffle dressing and oyster sauce - 650 rubles
Roast beef with Gorgonzola and pear sorbet - 530 rubles
Ravioli with shrimps and halibut - 620 rubles
Wine Cusumano "Lucido" - 450/2700 rubles.
Романтический ужин на воде с изысканным меню и живой музыкой
Круизы по Неве на теплоходах-ресторанах
Купить билет