Famous building
Yeliseyevsky Shop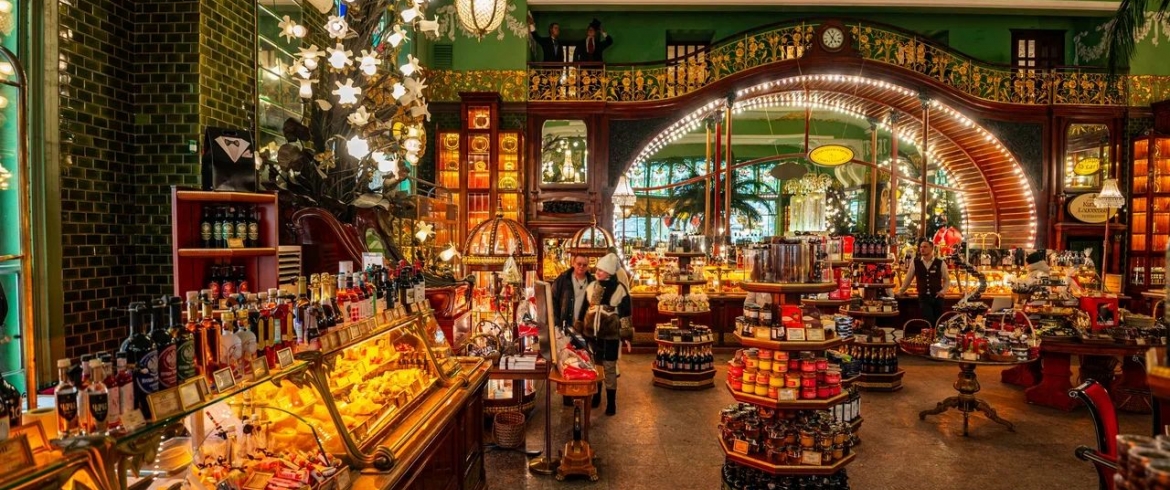 Address
Nevsky prospect, 56
Years of foundation
1902-1904
Architects
G.V. Baranowski
Style
Modern with elements of Eclecticism
The building of the trade association "Brothers Eliseev" is located at the intersection of Malaya Sadovaya Street and Nevsky Prospekt. For its construction was chosen a prestigious place opposite Catherine Square.
Against the background of the classical architecture of Nevsky Prospekt, the building stands out with its luxury finishes. The huge stained-glass window of the trading house gives the impression of one huge showcase. Four sculptures by A. G. Adamson "Industry", "Trade", "Art" and "Science" are installed on the facade. At the opening of the store all of the upper-class of St. Petersburg gathered. The facade of the building, its marble counters decorated with mahogany, colored stained-glass windows, and tiles caused a real sensation, although some skeptics called the building "confectionary pie".
Inside the store, there were three trading halls, decorated with mirrors and bronze lamps. According to one of the legends, in 1917 the owner of the trading house Eliseev before running away from Russia turned all his wealth into gold, from which the chandelier in the trading hall was made. But in reality, there was no chandelier at that time in the hall, it appeared only in the 1930s.
On the second floor was opened the Satire Theater (now N.P. Akimov's Comedy Theater), and on the third floor, there is a restaurant.
In Soviet times Eliseevsky shop was called Gastronom number 1, it was almost always possible to buy delicacies there.
In 2011-2012, the Eliseevsky Shop was reconstructed, the interior was restored from photographs of 1903. In December 2012, moving dolls appeared on the showcase - the characters of the Nutcracker fairy tale, created by the famous sculptor Mikhail Shemyakin.