Famous building
House of Stenbock-Fermors (Kapnistov)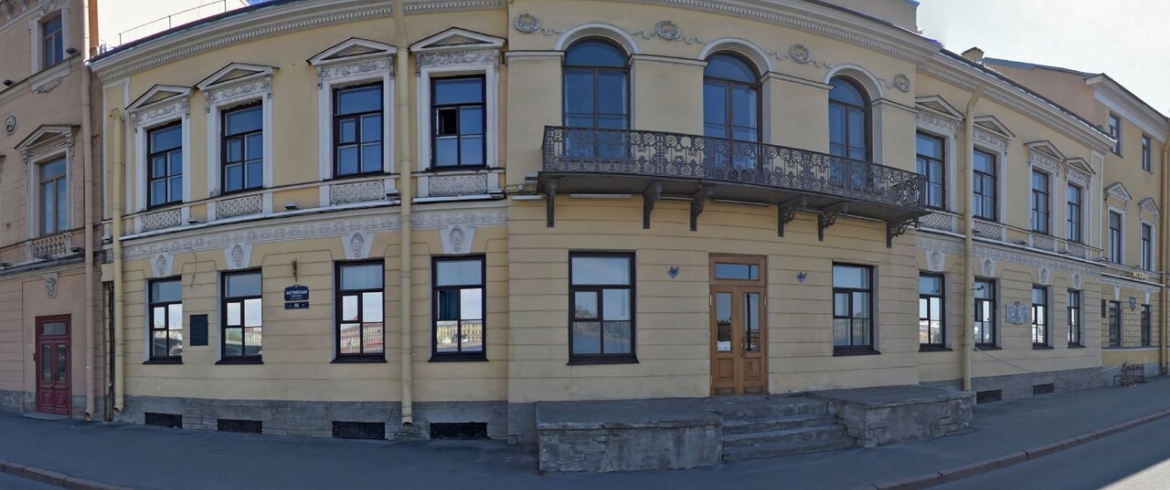 Address
Galernaya st., 51 /English emb., 50
Years of foundation
1730s, 1830s
The building with two facades, one of which overlooks the Promenade des Anglais, and the other overlooks Galernaya Street, dates back to the early 18th century. It is known that a stone building with a mezzanine was built here in the 1730s. The house belonged to Anna Yakovlevna Sheremeteva, daughter of Prince Yakov Fedorovich Dolgorukov, associate of Peter I
In the 18th and early 19th centuries, the mansion changed hands many times. At the end of 1837, it was acquired by the Stenbock-Fermor family of the Eastsee aristocracy. The mansion was rebuilt: a two-storey building on the basements in the classicism style, crowned with an outrigger cornice and a stepped attic. The central risalit in the mezzanine is cut with Venetian windows (between them there are stucco wreaths with ribbons) and is decorated with a beautiful balcony on cast-iron consoles. The rusticated first floor is separated from the second floor by a stucco ribbon frieze, above its windows there are castle stones with mascarons.
The mansion is also interesting for outstanding people who lived here in different years. From 1835 to 1837, Vsevolod Andreevich Vsevolozhsky, a famous and richest mine owner, whose former estate, Ryabovo, is now the city of Vsevolozhsk, Leningrad Region, lived and died in the house.
In 1859-1862, the mansion was rented by the Prussian envoy, Prince Otto von Bismarck, in the future Chancellor of the German Empire.
At the end of the 19th century, after the death of Alexander Alexandrovich Stenbock-Fermor, the land was inherited by his daughter Nadezhda, who married the diplomat Count Pyotr Alekseevich Kapnist. Under them, the mansion was rebuilt according to the project of the architect V.P. Zeidler. He also erected a three-story wing in the courtyard. In 1905, the yard wings were rebuilt by the technician V.A. Teremovsky.
During the Soviet years, the mansion was a residential building. Today, it houses the preparatory courses of the Institute of Painting, Sculpture and Architecture named after I.E. Repin of the Russian Academy of Arts.
Some of the mansion's interiors have survived.