Famous building
House of Raskolnikov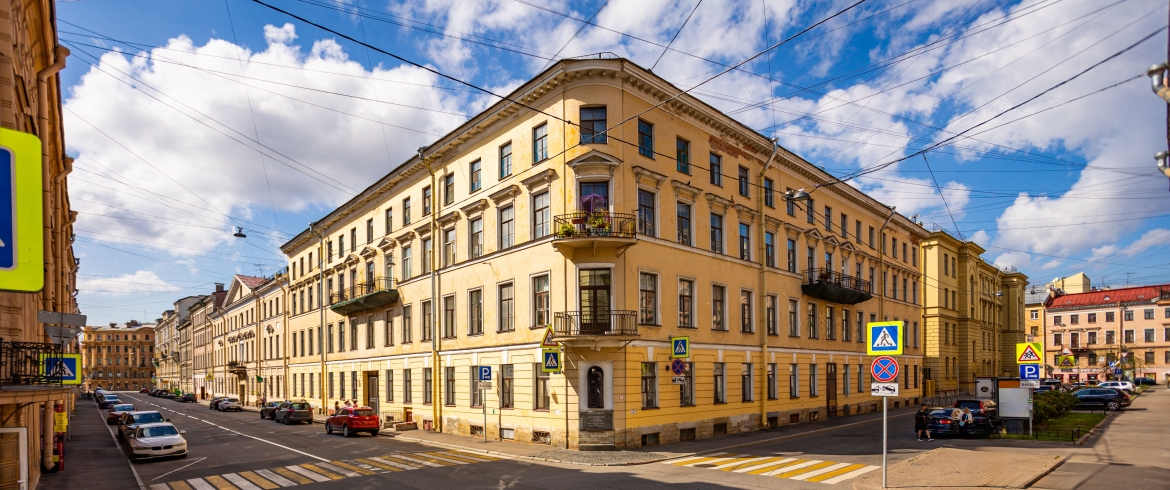 Address
Grazhdanskaya Str., 19 / Stolyarny per., 5
Architects
E.T. Zollikofer
Profitable house of I. Jokhima is located on the corner of Grazhdanskaya Street and Stolyarny Pereulok. According to the researchers of art F.M. Dostoevsky, the main character of the novel "Crime and Punishment" Rodion Raskolnikov lived here. The house was built in 1831 by the design of Egor Zollikopher in the style of simplistic classicism.
The house is four-story (in the past - five-story). The passage to the yard is closed by bars. On the wall, there are two marble plaques marking the height of the water during the flood of 1824 (it means that before the construction of the modern building), with the following words: on one - "The height of water 7 November 1824"; on another similar text in German.
On the fourth floor, there was an apartment in which Raskolnikov rented a room. As in the novel, there are 13 steps leading to the attic of the house.
In the corner part of the house, there is a high relief "Raskolnikov's House", which was opened on July 7, 1999. The authors of the monument are the sculptor E. N. Rotanov and the architect V.I. Novosadyuk. On the granite slab is the text: "Raskolnikov's House. The tragic fate of the people of this area of St. Petersburg served Dostoevsky as the basis for his passionate preaching of good for all mankind." The authors of the text are academician Dmitry Likhachev and writer Daniil Granin.