Famous building
House of Political Prisoners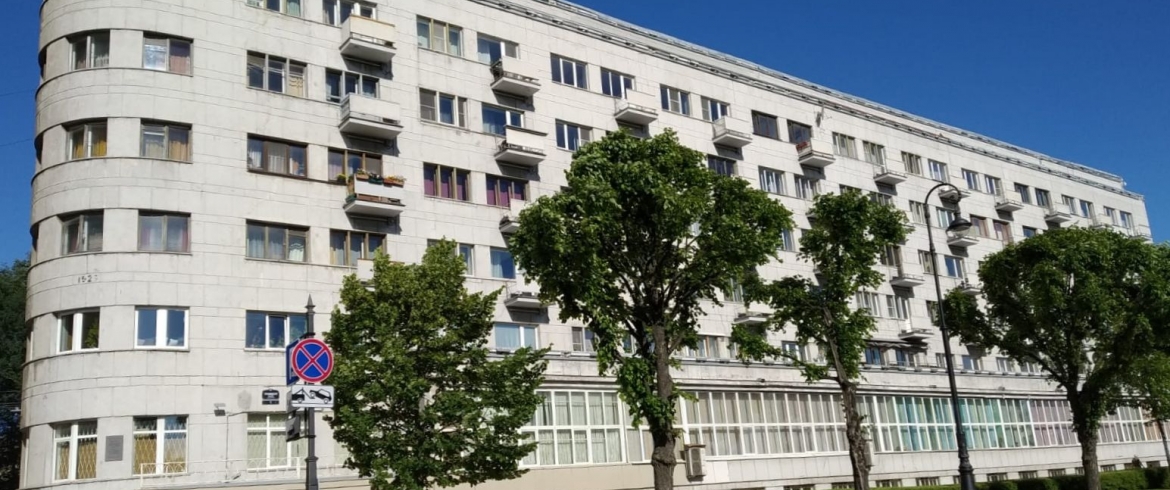 Address
Troitskaya Sq., 1A
Years of foundation
1929–1933
Architects
G.A. Simonov, P.V. Abrosimov, A.F. Boars
The residential building on the corner of Troitskaya Square and Petrovskaya Embankment was built in the early 1930s for the Society of Former Political Convict and Exile Settlers.
This is one of the first commune houses in Leningrad. It consists of three six- and seven-story buildings, located in an open rectangular triangle. Asymmetry of the composition is most strongly expressed in the structure of the main body, which consists of two unequal, mutually displaced plates. The public area is highlighted below by a horizontal line of glazing. The house accommodated 200 apartments - one and two-bedroom.
The commune houses promoted the idea of a "new life" designed to liberate Soviet women, to free them from domestic labor. Therefore, the house did not have kitchens, they were replaced by public canteens in the first floors of the buildings. At the house, there was a kindergarten, a library, a club with a cinema hall, a solarium, garages.
"New life" did not take root, and in the future the apartments were re-planned, each received a normal kitchen. The external appearance of the building has not changed much over the years.
During the years of the Great Terror (1937-1938), many of the residents of the political house were repressed and shot. In memory of them, a memorial plaque is installed on the house in the courtyard. Its author is the sculptor Dmitry Bogomolov, the son of Ivan Bogomolov, a member of the Society of Political Convict and Exile Settlers shot in September 1938.