Famous building
House of Lobanov-Rostovsky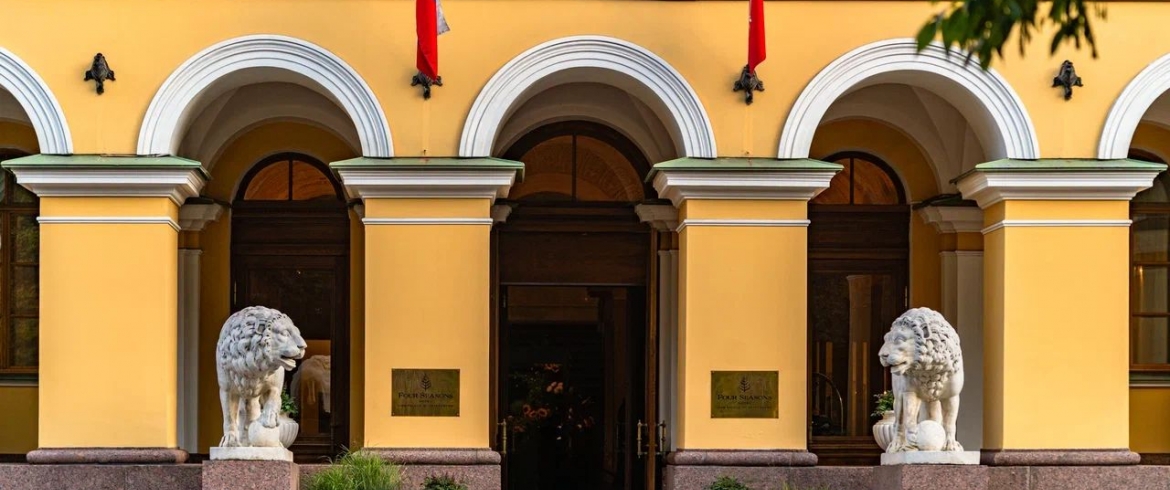 Address
Admiralty pr., 12 /Isaac's sq., 2 /Voznesensky pr., 1
Years of foundation
1817–1820
Architects
Auguste Montferrand
The Lobanov-Rostovsky House, known as the "House with Lions" was erected in 1817-1820 according to the project of Auguste Monferrand as the apartment building of Prince Alexander Yakovlevich Lobanov-Rostovsky.
The building, triangular in plan, occupies an entire block between Admiralteysky and Voznesensky Avenues and St. Isaac's Square. The main facade, facing Admiralteysky Prospekt, is decorated with a portico with eight columns of the Corinthian order. The portico rises above the forward-facing arcade, on the sides of which are white marble figures of lions by the sculptor Paolo Tricorni.
The facade facing St. Isaac's Square almost repeats the main one, and the facade along Voznesensky Prospekt is more restrained.
From the very beginning, the house was conceived by the owners as profitable. However, it did not bring the Lobanov-Rostovsky expected income, and in 1824 they surrendered it to the War Ministry. In 1829, the building was rebuilt for the needs of a state institution according to the project of architect E.Kh. Anerta (reconstruction concerned mainly the interior decoration).
In 1926-1928, an outstanding Russian scientist - biologist and geneticist, academician Nikolai Ivanovich Vavilov lived in this house.
In Soviet times, the building was occupied by a school, including the famous physics and mathematics school No. 239, then the design institute. Today, the fashionable Four Seasons Saint Petersburg hotel is located here.