Famous building
The House of Leningrad Trade (DLT)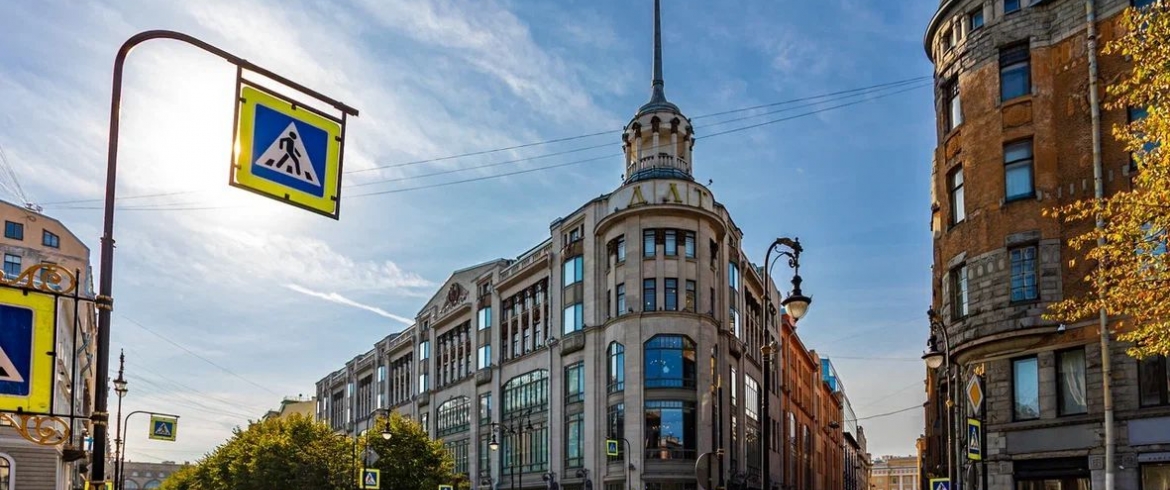 Address
Bolshaya Konushennaya Str. 21-23 / Volynsky per., 3
Years of foundation
1907–1913
The site on which the building was built in the XVIII century belonged to A.P. Volynsky, a major statesman of the Petrine era. Here a stone two-story cab-house stood, which in common parlance was called "Volynsky". The neighboring Volyn lane is named according to it.
In 1907, a site along the Bolshaya Konyushennaya, Volynsky lane and the embankment of the Moika River was bought by the Guards Economic Society. For the construction of the trading house, an international competition was organized, in which 25 projects participated. As a result, the project of E.F. Verrich was chosen.
For the first time in Russia, a monolithic reinforced concrete frame was used here on a large scale. Two spacious trading halls are solved in the form of atriums, girded with multi-tiered galleries and covered with a glass ceiling.
The grand opening of the trading house of the Guards Economic Society was held on December 7, 1909, and in 1913 the second stage (Small Hall) was opened. It was the largest department store in St. Petersburg and one of the first in Russia. The department store began to be called the "Guards housekeeper" since the officers of the Guards regiments enjoyed discounts here.
After the revolution, the building housed the First State Department Store, which in 1927 was transformed into the "House of Leningrad Cooperation." Since 1935, the current name - "The House of Leningrad Trade" (DLT) has been assigned to him.
The last time reconstruction of the trading house DLT was carried out in 2005-2012.