Famous building
Kolobov House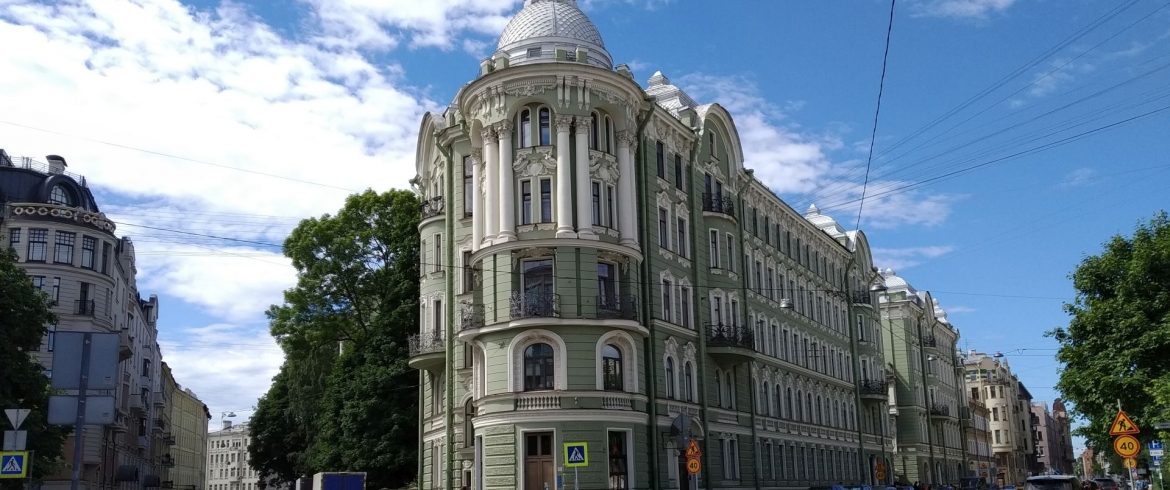 Address
Lenina st., 8 / Pushkarsky per., 2
Years of foundation
1908–1910
Architects
S.G. Ginger and M.I. von Wilken
The lucrative home of the Kolobov brothers timber merchants is one of the few houses in St. Petersburg that have preserved their own name "Kolobovsky".
The building on Shirokaya Street (now Lenin Street) was erected in 1908–1910 by the project of the architect S.G. Ginger and technician M.I. von Wilken in neo-baroque style and marked with a diploma in the 1912 facade competition.
The architectural design of the Kolobov house is rather unusual. The beginning of the 20th century is the heyday of St. Petersburg modern, but the building was built in the lush neo-baroque style.
Large volumes of the building are plastically connected in an interesting composition of a gear form. A deep open courtyard on the street side is combined with small triangular courtyards, open into an alley. The corner of the building is decorated with a round tower-rotunda, and from the direction of Pushkarsky lane the house is decorated with a semicircular apse with three loggias. In the lower loggia there are six figures of caryatids. On both sides of the entrance to the courtyard there are two bay windows, supported by the Atlanteans.