Famous building
House of Engelhardt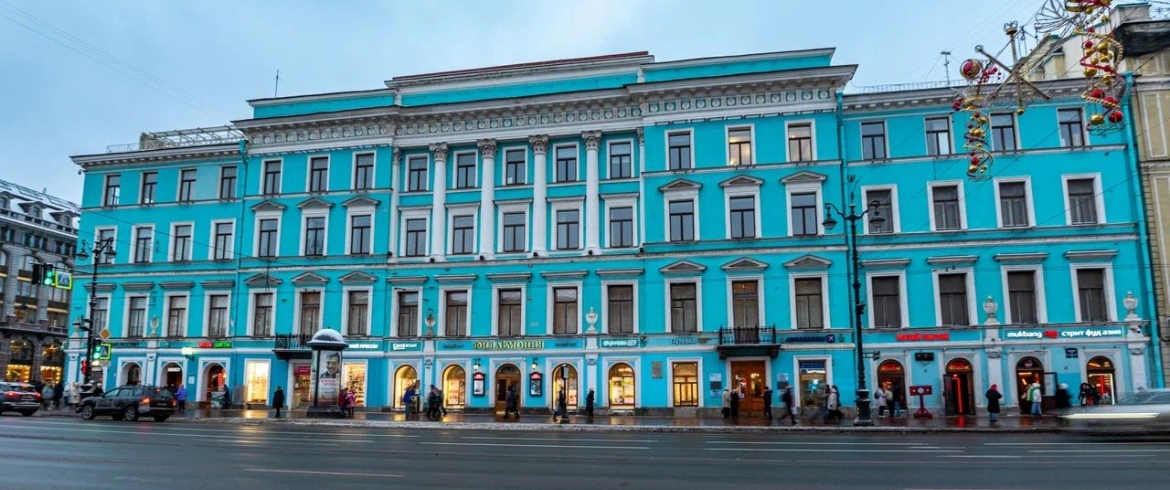 Years of foundation
1759–1761, 1829–1831
Architects
F.-B. Rastrelli, P.P. Jacot
Small hall named after M.I. Glinka of St. Petersburg Academic Philharmonic named after D.D. Shostakovich is one of the best chamber halls in the world, with unique acoustics.
The history of the mansion on Nevsky Prospekt, 30, dates back to the middle of the 18th century. In 1759-1761, according to the project F.-B. Rastrelli three-story mansion in the Baroque style was built for General A.N. Wilboa. In 1799 the building passed to the merchant-millionaire M. S. Kusovnikov, and from the beginning of the XIX century concerts of the first Petersburg Philharmonic society in Russia were held there.
In 1829-1832 the house belonging to the daughter of merchant Olga Engelhardt was rebuilt by the architect P.P. Jaco in the style of late classicism. The building became a four-story building. In the music salon of Mrs. Engelhardt all the famous people of the capital were gathering - A.S. Pushkin, V.A. Zhukovsky, M.Yu. Lermontov, I.S. Turgenev. Masquerades in Engelhardt's house were so popular that even members of the royal family visited them, and Mikhail Lermontov placed the action of the "Masquerade" drama in the interiors of the mansion.
On May 15, 1949 in the building on Nevsky Prospect, 30, solemn opening of the Small Hall of the Leningrad Philharmonic was held. It was given the name of the great Russian composer M.I. Glinka.
Today the former House of Engelhardt is known as the center of the musical life of St. Petersburg.