Famous building
Apartment building of the insurance company "Russia"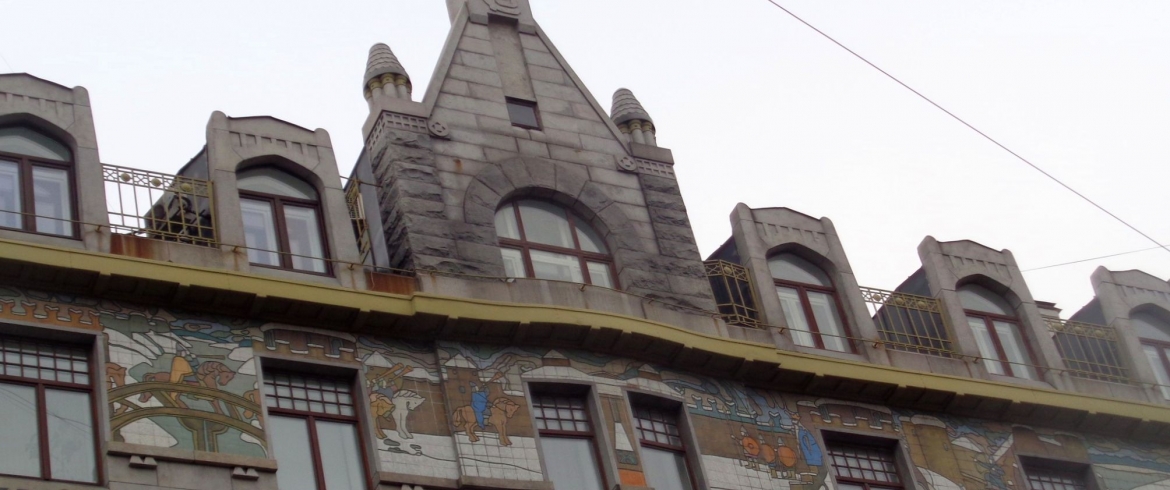 Address
Bolshaya Morskaya st., 35
Years of foundation
1905-1907
Architects
A.A. Gimpel, V.V. Ilyashev
In the 1740s, this place was a one-story mansion of the court tailor Caspar Grill. The house changed hands many times until in 1905 this site was transferred to the Rossiya insurance company, which already owned two neighboring houses - 37 and 39 along Bolshaya Morskaya Street. According to the project of engineer Aleksandr Gimpel and architect Vasily Ilyashev, a new six-story building of an art nouveau apartment building was built here.
The insurance company itself occupied the second and third floors, on the ground floor there were shops, in particular, "The Royals and Piano of J. Becker". The upper floors were intended for residential apartments.
The facade of the building was decorated with a majolica frieze made by the ceramist Peter Kuzmich Vaulin based on drawings by Nikolai Konstantinovich Roerich on the theme of the Russian North. The upper mosaic frieze was lost during the blockade, and today you can see only three small inserts above the windows of the second floor. The facade was also decorated with other Roerich majolics dedicated to Old Russian military campaigns. Downed in the 1960s, they were recreated at the beginning of the XXI century.
In the interiors of the house, stained glass windows and a large number of ceramic stoves, various in pattern and color, were preserved. The lobby and the main staircase of the house are decorated with reliefs depicting the nature and animals of the North.
Today it is an administrative building, in which, including the Museum and Exhibition Center "Rosfoto" and the museum of Russian politician and statesman Galina Vasilievna Starovoitova.