Famous building
Golovin's dacha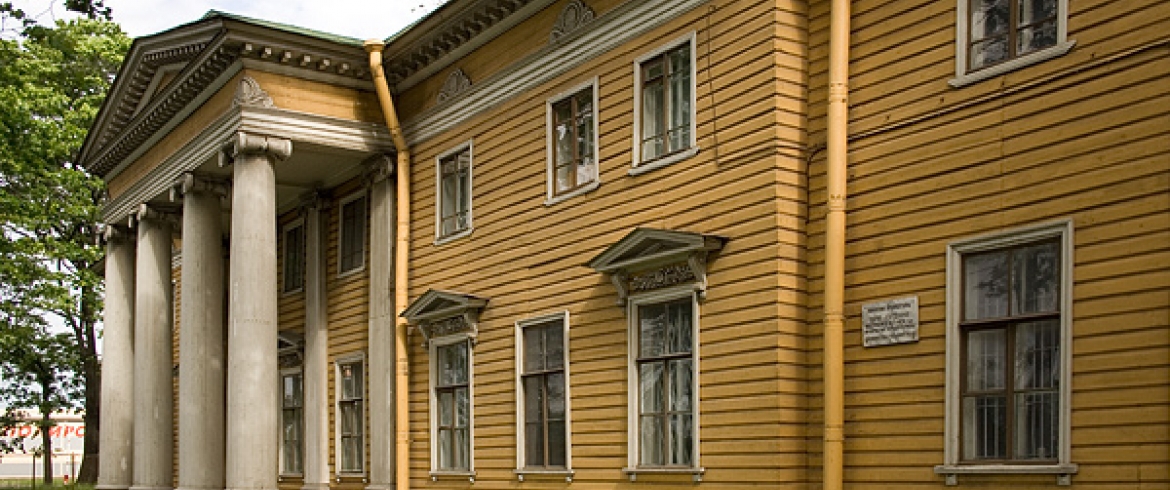 Address
Vyborgskaya Emb. , 63
Years of foundation
1823-1824
Architects
L.I. Charlemagne
At the confluence of the Chernaya River with the Great Nevka the Dacha of Golovin is located, one of the brightest monuments of wooden architecture of the classicism era, built in St. Petersburg.
The first mention of the homestead located here dates back to 1710. It belonged to Count Fyodor Alekseevich Golovin, an associate of Peter I, head of the foreign policy department. In the early 1780's, his grandson built a mansion in a classical style with a vast garden and greenhouses. The estate remained the "gentry's nest" of the Golovins until 1802 when the estate with the adjoining village was bought into the treasury by the Ministry of the Interior and turned into a royal farm. Soon the dacha became the residence of members of the royal family.
By the 1920s, the building was dilapidated, and in its place in 1823-1824 the architect Ludwig Ivanovich Charlemagne built a two-story wooden house with a four-columned portico. The columns support a balcony at the level of the second floor, enclosed by a balustrade. Facade processing imitates forms of stone architecture.
In the summer of 1825 the Grand Duchess Maria Pavlovna lived here with her family, and in 1827 the dacha was given for her mother, the widow Empress Maria Feodorovna. Later it housed educational institutions, and since 1856 the owner of the dacha became the Board of the Educational House, which was formerly under the leadership of the Empress Maria Feodorovna and was one of the first institutions in St. Petersburg to train specialists with secondary special education: there were a teacher's seminary and a medical school with a hospital.
After the revolution, Golovin's dacha was nationalized, an orphanage was located here, and then - a children's dermatology hospital in the Vyborg district. Today the monument is given to a private company.