Monument
Blockade Speaker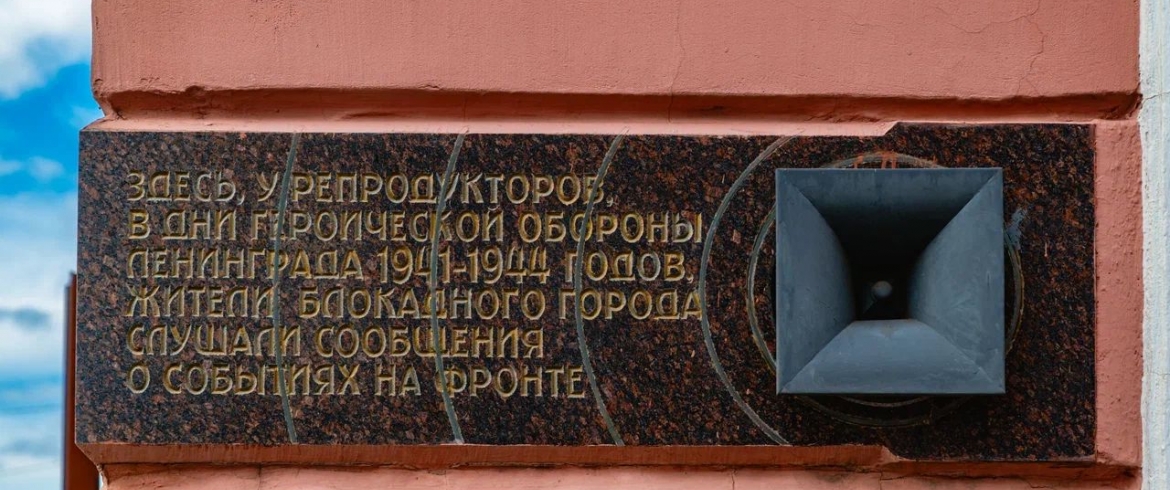 Address
Malaya Sadovaya, 1 / Nevsky pr., 54
Sculptor
A.P. Chernov, K.A. Strakhov
A commemorative sign is installed on the corner of the house, where during the years of the siege of Leningrad a loudspeaker hung from which Leningraders were listening to news from the front.
Leningrad Radio played a special role in the life of the city. The Sovinformburo messages were broadcasted on it, the most important city news was broadcast, including changes in the bread delivery standards, music and poetry programs were heard, including the Seventh Leningrad Shostakovich Symphony. The radio transmitted airborne alert and lights out, and a metronome sounded between the transmissions.
In the early months of the blockade, 1,500 loudspeakers were installed on the city streets. The reproducer on Malaya Sadovaya was not far from the Radio House (Malaya Sadovaya St., 2/5), where since 1932 the central radio station of Leningrad has been located. It often appeared on the footage of the war chronicle.
The memorial sign was installed in 2002 according to the project of A.P. Chernova and K.A. Strakhova. The composition consists of a military-style horn loudspeaker and an angular memorial plaque overlooking both Nevsky and Malaya Sadovaya. On the Nevsky side - a metal plate engraved with a blockade photograph; from the side of Malaya Sadovaya - a reproducer from which the circles of radio waves diverge.
Interestingly, the loudspeaker is operational and can broadcast. The opening of the monument took place on May 8, 2002. At the ceremony, a rare blockade record of Olga Berggolz sounded from the speaker. Memorial events are held at the memorial sign on the anniversary of the lifting of the blockade and on Victory Day, and blockade recordings are heard from the reproducer.
Индивидуальные экскурсии по городу и пригородам на автомобиле и минивэне
Петербург для тех, кто ценит комфорт и внимание
Заказать