Famous building
White Tower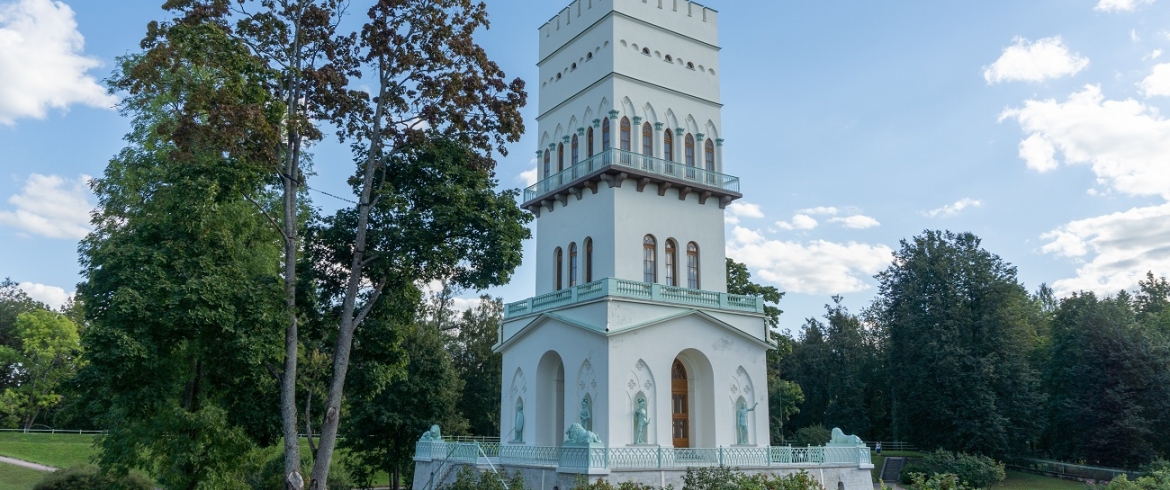 Address
Pushkin, Palace st., 2
Monday, Tuesday
Closed
Wednesday, Thursday, Friday, Weekend
10:00 – 17:00
Years of foundation
1821—1827
The White Tower is the first recreated Gothic pavilion of Tsarskoye Selo Alexander Park.
In Alexander Park there is an amazing place. Away from the main axis of the landscape part of the Alexander Park is the White Tower - a castle 37.8 meters high. It was built in 1821-1827 according to the project of the architect A. A. Menelas for the children of Emperor Nicholas I - the Grand Dukes Alexander, Nikolai, Mikhail and Konstantin, who were engaged in military and gymnastic exercises here; on the top floor of the Tower was the workshop of the court painter A.I. Sauerweid, who gave the imperial children drawing and painting lessons. The pavilion ended with an open viewing platform, from which a beautiful view of the surroundings of Tsarskoye Selo opened.
During the Great Patriotic War, the White Tower was almost completely destroyed. The restoration of the monument began in the 1990s, in 2012 the tower was completely restored. Currently, the pavilion houses the Interactive Children's Center of the Museum-Reserve.
Today, the White Tower is a place where you can have fun and usefully spend time. On Saturdays and Sundays, the center hosts family classes with creative workshops on modeling and drawing, fresco and stained glass painting. Interactive programs are available for organized children's groups: "Visit the Knight" (5+), "Development of Pleasant Talents" (4+) and "Following the Follows of Aivengo" (10+) and many others.
In the summer, anyone can visit the center. From mid-May to mid-October, sightseeing tours are held here with access to the observation deck. The minimum group is 5 adult visitors; excursions are not conducted during rain.