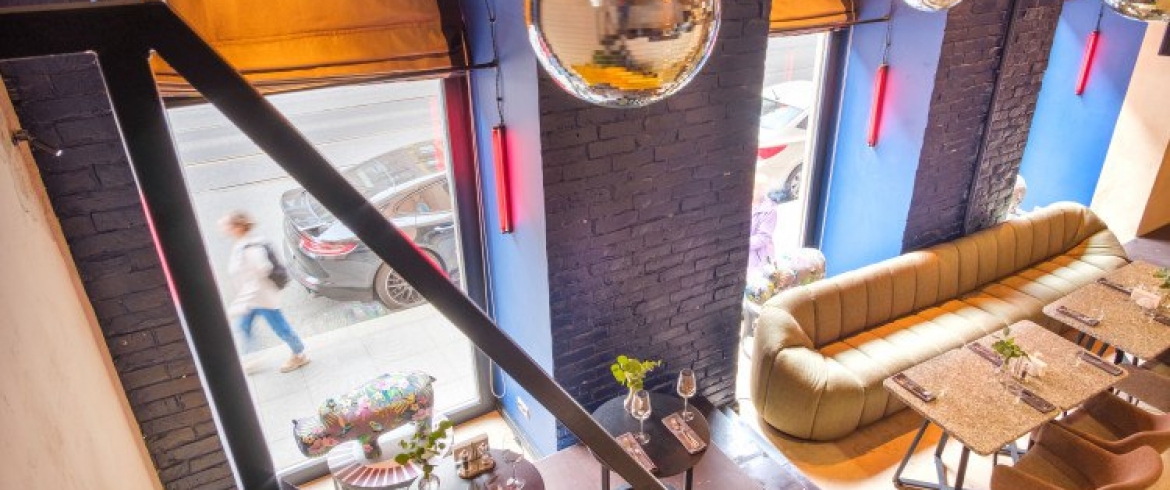 Monday, Tuesday
Closed
Wednesday, Thursday, Sunday
18:00 – 02:00
Friday, Saturday
18:00 – 05:00
The iconic Ginza Project bar-restaurant Begemot 3.0 has united a restaurant and a club. During the day it works as a restaurant of Italian, Mediterranean and other cuisines, and at night it hosts loud parties with charismatic hosts and top DJs of the city.
Guests will find light colors of the interior, large stained-glass windows, a huge bar counter for two halls for ordering signature cocktails, a comfortable and spacious landing, free space for dancing and communication, a vip room.
At the entrance you are greeted by figures of hippos and a friendly atmosphere, and in the windows there are neon signs Dance, Wine, Party visible throughout the street. Go-go girls in shiny bodysuits dance in large display windows, and bartenders arrange a barmen show right behind the bar. The music format is pop. The general mood is ready to party.
The Begemot 3.0 bar menu features fusion, Mediterranean and Italian cuisine with an emphasis on seafood.
Popular positions:
Grilled plateau - 7,500 rubles
Salad with crab, tomatoes and shrimps - 1190 rubles
Pike cutlets with mashed potatoes and champagne sauce - 790 rubles
Pasta with crab - 1290 rubles
Sparkling wine NV PROSECCO Brut, Bolla Veneto, Italy 125 ml - 450 rubles.
Beer GRIMBERGEN Double Ambree Belgium 330 ml - 550 rubles.