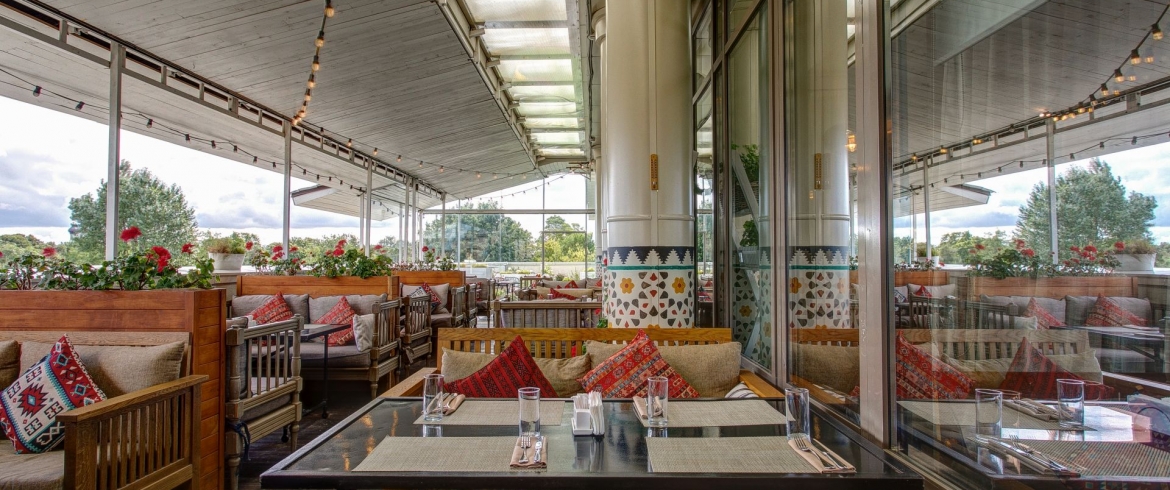 Address
Aleksandrovsky park, 4/3 А, «Velikan Park», 4 floor
The "Baklazhan" restaurant in the "Velikan Park" is space and all-embracing freedom. Four view terraces for 290 seats, secluded cabins and a view of the Peter and Paul Fortress add a special coziness. Even in bad weather, you can admire the view, as all the terraces are insulated.
The visiting card of the restaurant is a stone wood-burning stove, where real homemade khachapuri are baked according to the recipe of the brand chef Iso Dzandzawa. Iso is the chef of the restaurants of the Caucasian direction of the Ginza Project holding. She strives to cook dishes in restaurants exclusively according to her own home recipes. And cooking can be easily observed thanks to the open kitchen.
Particular attention is paid to the line of eggplant dishes - these are non-trivial dishes made from local seasonal products that are not only healthy, but also famous for their excellent taste.
A huge children's room with a dry pool has been created for the youngest guests, and caring nannies will always look after and surround them with attention. For children, the institution conducts culinary master classes, and their parents can watch sports broadcasts on the big screen.
Populat positions:
Fried eggplant rolls in Georgian style - 550 rubles
Khachapuri with eggplant - 550 rubles
Balyk-shurpa with salmon and pike perch - 450 rubles
Puff eggplant with meat - 590 rubles
Pork ojakhauri - 690 rubles
Lamb shashlik - 790 rubles
A glass of Georgian wine - 280 rubles
Романтический ужин на воде с изысканным меню и живой музыкой
Круизы по Неве на теплоходах-ресторанах
Купить билет