Famous building
Azov-Don Commercial Bank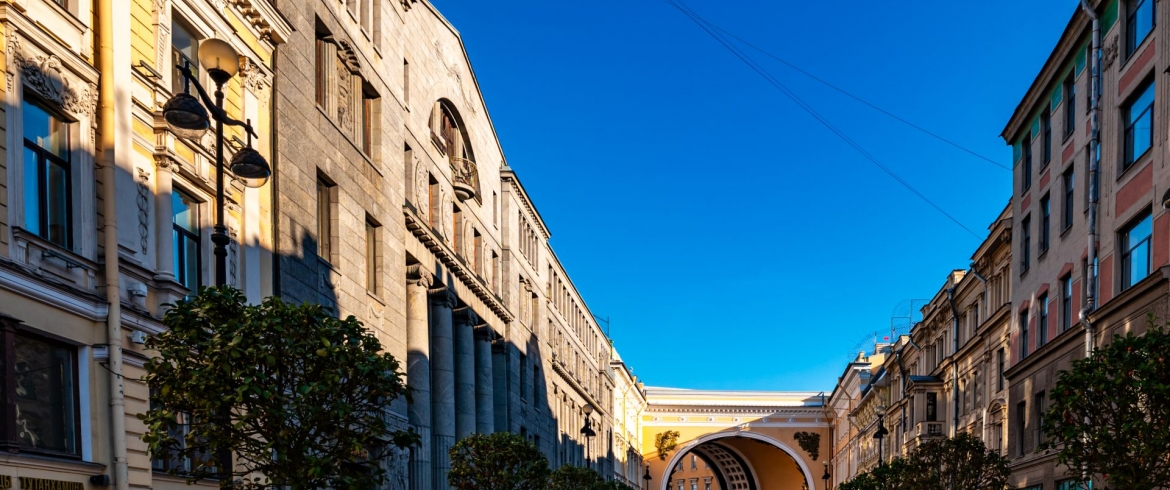 Address
Bolshaya Mosrkaya st., 3-5
Years of foundation
1907-1909, 1912-1913
The Azov-Don Commercial Bank was founded in 1871 in Taganrog, and in 1904 the bank's board was transferred to St. Petersburg. Initially, it was located in house 26 on Nevsky Prospect. On June 2, 1906, the bank acquired a plot of house 5 on Bolshaya Morskaya Street and announced a competition for the design of a new building. On May 2, 1907, the Bank Council unanimously approved the project of the young architect F.I. Lidval.
The first bank building was built in 1907-1909. Then the bank acquired a neighboring plot of house 3, and in 1912-1913 Lidval connected both buildings, creating a finished composition.
The facade of the house is not symmetrical and is decorated with four ionic columns, cannulated in the lower part, and six pilasters. The plane of the wall is decorated with sculptural elements. The oval medallions between the windows of the fourth floor and the stylized multi-figured bas-reliefs "Asia" and "Africa" at the level of the first floor by sculptor V.V.Kuznetsova are interesting.
Both facades are faced with light gray Finnish granite. The main entrance to the bank is decorated with mirror-polished motley-banded stone of white and black color. It is dominated by gray plagioclase, dark mica, partially quartz. To decorate the interiors of the building of the Azov-Don Bank, green and brownish-green marbles were used.
The illumination of the operating room is organized by the continuous glass walls facing the narrow light courtyards and covered from the outside with glass roofs of a large slope.
Interestingly, in the formation of the architectural decoration of the facade, Lidval linked his work with the facade of the neighboring building of the General Staff Building. He accurately reproduced the meander belt above the relief cycle of the first floor and separating the first floor from the second.
After 1917, commercial banks were liquidated, and various institutions were located in the building. In 1944-1947, the Intercity Telephone Station opened here, and the next year, the Central Telephone Call Center, the largest in Leningrad. In 1964, it was here that the first conversation took place between Leningrad and Moscow through automatic telephone communications.
Today, this building houses the Lidval business center.