Exhibition
The exhibition "Terrible laughter", dedicated to the 100th anniversary of the creation of "WINDOWS OF ROSTA"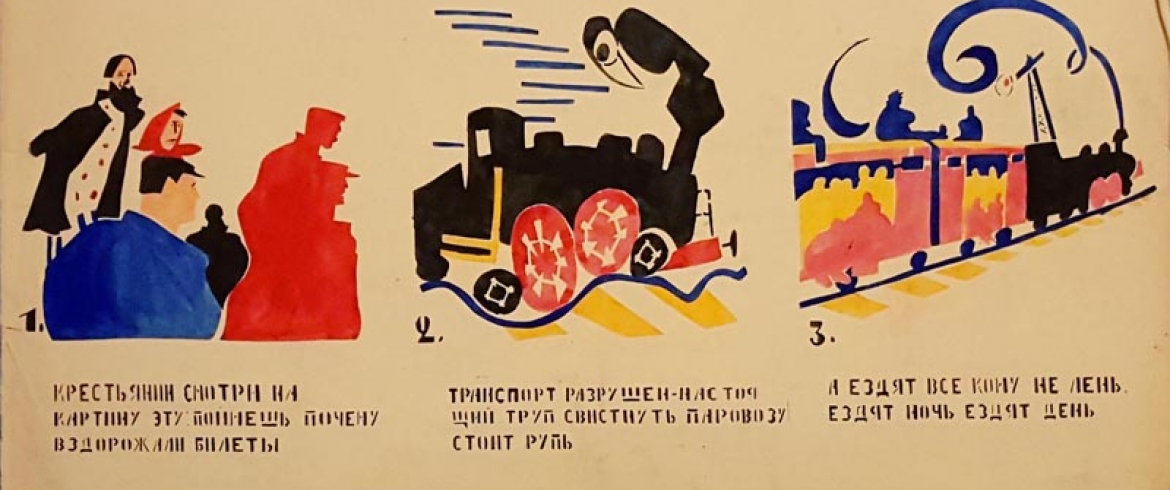 Date
18 september 2019, 13:00 — 30 october 2019, 21:00
The Prints Department of the Russian National Library will host the exhibition "Terrible Laughter", dedicated to the 100th anniversary of the creation of "WINDOWS OF ROSTA".
For the first time, the exhibition will feature unique propaganda posters created in 1919-1921 by Soviet artists and poets who worked in the Russian Telegraph Agency. Hand-made posters, one-day posters, quickly responded to the events of the country's political life, made up for the shortage of newspapers and magazines, and propagandized everything new in the country. They were hung out in the windows of empty shops, in propaganda centers, at train stations. Thanks to the "telegraphic style" with its laconicism of expressive means, "ROSTA WINDOWS" became the founders of the new poster language.
Particular attention at the exhibition was paid to the original works of the outstanding representative of the Moscow school of "Okon", their main inspirer and ideological leader Vladimir Mayakovsky.
Visitors will be able to see rare posters of artists of Petrograd Vladimir Lebedev, Vladimir Kozlinsky and others, as well as propaganda posters of regional branches.
Among the valuable exhibits - an album with drawings and posters of Mayakovsky "Terrible laughter" (1931), leaflets, as well as campaign publications of the "red", "white" and anarchists of the Civil War. Visitors will also be able to familiarize themselves with publications dedicated to the work of artists and poets of the Windows of ROSTA. The exhibition will present the most interesting samples of "Windows". Based on the expressiveness of silhouettes and catchy coloring, the use of symbols, Russian lubok traditions and innovative means of the Soviet avant-garde, ROSTA Windows became a classic of Russian culture. Their enormous propaganda significance affected the creation of the years 1941-1945 during the Great Patriotic War. "Windows ROSTA", which actively used the experience of this very effective type of propaganda art.