Palace
General Staff Building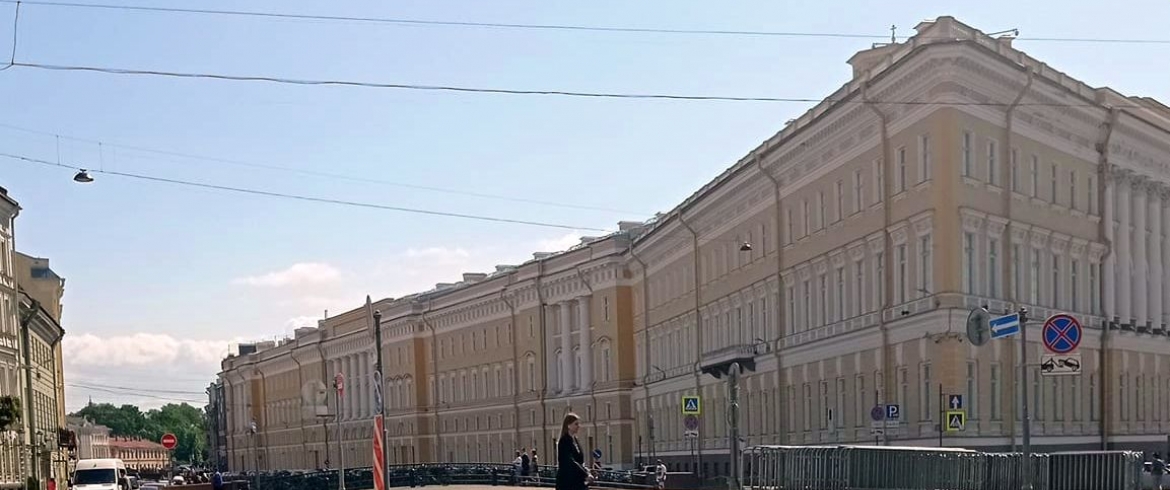 Address
Palace sq., 6-10 / Moika River emb. 39-47
Years of foundation
1819–1829
The historical complex of government buildings that formed the architectural appearance of Palace Square and part of the Moika Embankment was created in the 1820s according to the project of Carlo Rossi. The complex consists of two wings connected by a triumphal arch. The total length of the facades is 580 meters.
In 1819, the formation of Palace Square as the main front square of the capital, where a new administrative center was planned, began. Near the main imperial residence - the Winter Palace, the most significant state institutions are located: the General Staff Building, the Ministries of Finance and Foreign Affairs, the Senate and the Synod
The creation of the complex began with the construction of the western wing, the volume of which included the already existing Felten houses with their proportions and arched position in the plan.
The east wing with the buildings of the Ministries of Foreign Affairs and Finance on the Moika Embankment completed the ensemble of Palace Square. Its architecture is much simpler, the sculptural decoration of the facades is almost absent, and a strict Doric order gives the overall facade monumentality and solemnity.
A striking feature of the building is a sharp, reminiscent of the bow of the ship, the angle of the facade, facing the Pevchesky bridge. However, some architects consider it a city-planning mistake caused by the desire of K. Rossi to maximally preserve the walls of old buildings.
The complex of the General Staff building includes two independent architectural dominants.
The arch of the General Staff Building was erected in 1828 in honor of the victory of Russia in the Patriotic War of 1812. The arch project was made by K.I. Rossi, the authors of the triumphal chariot over the arch - sculptors S. Pimenov and V.I. Demut Malinovsky.
A dome lamp made of metal and glass, towering above the western wing of the building, was created by the design of engineer G. G. Krivoshein in 1902–1905. It provided daylight to the library below it. The stone dome, erected according to the design of Rossi during the construction of the building, was badly damaged by the library fire in 1900, and it had to be replaced.
Today, in the eastern wing of the General Staff building, there is a new exhibition complex of the State Hermitage Museum, and the western part of the building belongs to the Western Military District.
Индивидуальные экскурсии по городу и пригородам на автомобиле и минивэне
Петербург для тех, кто ценит комфорт и внимание
Заказать