Church
Resurrection Cathedral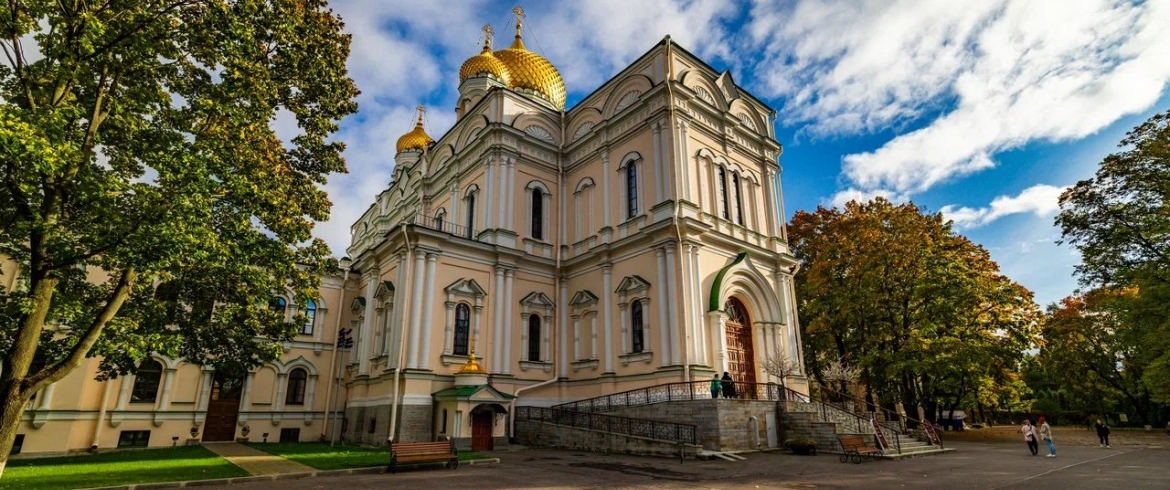 Address
Moskovsky prospect, 100
Years of foundation
1849–1861
Active Orthodox church
The five-domed two-story Resurrection Cathedral is the architectural dominant of the ensemble of the Novodevichy Convent. The temple was built in the Russian-Byzantine style at the initial stage of its development according to the project of architect N.E. Efimov and engineer N.A. Sychev. Outwardly, the cathedral resembles the Vladimir-Suzdal temples of the 15th century.
The five-domed cathedral was crowned with a large golden dome and four small ones on high drums. Two-story building of the cathedral, standing on a high socle foundation, is turned towards the avenue by a high arched portal.
Icons for the cathedral were written by Academician G.I. Yakovlev and nuns under his direction. Initially, the walls were painted images of the Scriptures. During the repair in 1899 all the dilapidated painting was destroyed; to this day only fragments of decorative painting, relating to the repair of 1914-1916, have survived. They are gold ornaments made on a blue background.
In 1932 the cathedral was closed. In 2001 the temple was returned to the church, then the revival of the architectural complex of the Novodevichy Convent began. The Resurrection Cathedral needed complete reconstruction, in 2007 it was newly consecrated. The final stage of the restoration of the temple was the work on his painting. The interior is completely rebuilt.
Индивидуальные экскурсии по городу и пригородам на автомобиле и минивэне
Петербург для тех, кто ценит комфорт и внимание
Заказать