Знаменитое здание
Vladimirskaya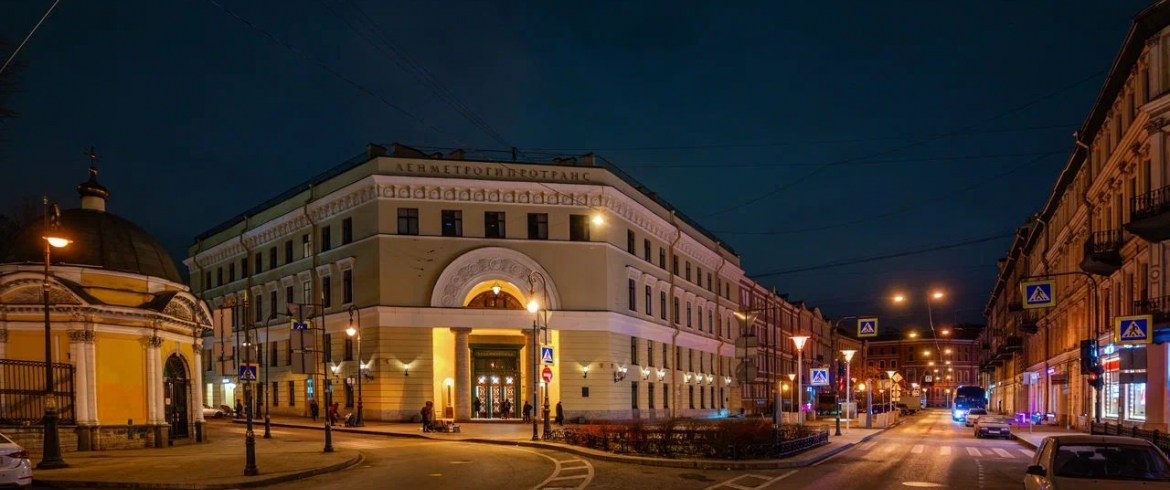 Address
Vladimirskaya sq.
Architects
G.I. Alexandrov, A.V. Zhuk, A.I. Pribulsky
The station of the 1st (Kirovsk-Vyborg, Red) line, one of the first metro stations in St. Petersburg, was opened on November 15, 1955 as part of the first stage of the Avtovo metro - Ploshchad Vosstaniya. It is named after Vladimirskaya Square and the avenue of the same name.
The station lobby is built into the Lenmetrogiprotrans building at the intersection of Vladimirskaya Square, Bolshaya Moskovskaya Street and Kuznechny Lane.
The Lenmetrogiprotrans building is four-story, with a beveled corner and Doric columns installed in its niche, built in the 1950s. Previously, on this place stood a two-story house of the Church of the Mother of God of Vladimir.
The lobby of the metro station was designed by architects G.I. Alexandrova, A.V. Zhuka and A.I. Pribulsky. It is faced with golden yellow marble, the dome is highlighted from below. The building of the ground entrance is adjacent to the walls of the Forge Market, which influenced the design of the station. Above the escalator is a bright mosaic panel "Abundance" by artists A. A. Mylnikov, A. L. Korolev, V. I. Snopov.
The underground hall of the station was designed by the same architects as the lobby. It is faced with white Ural marble, the floor is made of dark granite, massive chandeliers illuminate the station.
Interestingly, the "Vladimirskaya" - "Uprising Square" is the shortest part in the St. Petersburg metro. Its length is only 720 meters.
From the Vladimirskaya station, you can go to the Dostoevskaya station of the 4th (Pravoberezhnaya, Orange) line.