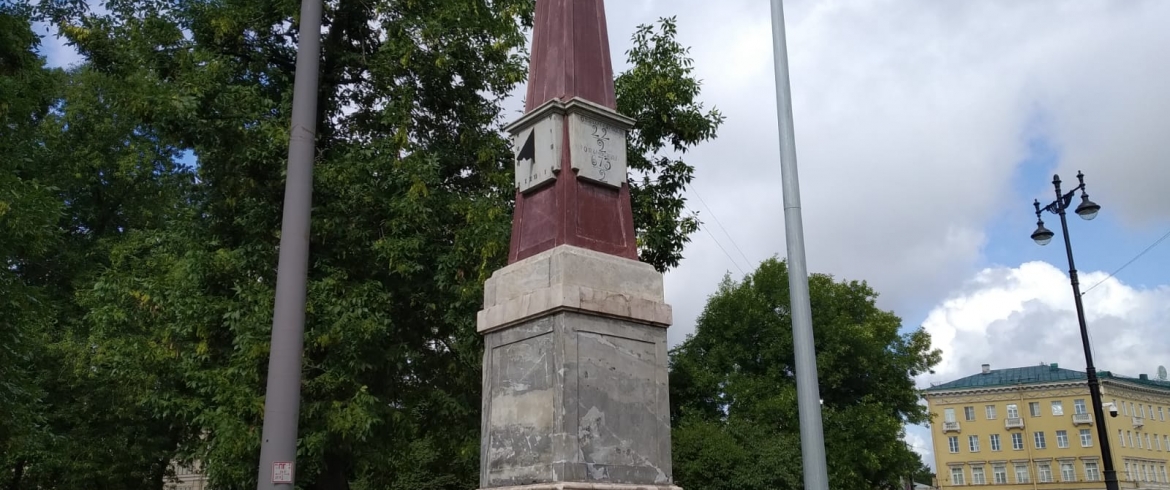 Address
Moskovsky pr., 17
The obelisk pillar with the sundial, located in the Marshal Govorov Square near the Obukhovsky Bridge over the Fontanka, is one of the remaining milestones that marked the road from St. Petersburg to Tsarskoye Selo in the 18th century.
Milestones on the Tsarskoye Selo highway appeared after the Senate issued a decree on the "stolling" of the road in 1744.
Under Catherine II, the Commission on the stone structure of St. Petersburg and Moscow decided to improve the main entrances to the capital on Tsarskoselskaya and Peterhof road. In the 1770s, wooden signposts were replaced by "marble mile pyramids" in the form of obelisks. According to the most popular version, the obelisks are made according to a drawing by architect A. Rinaldi (according to another version, the author of the project is J.-Vallen-Delamot).
The pyramids were "initial-final" and "intermediate". At the time of Catherine II, the southern border of St. Petersburg ran along the Fontanka River, therefore the first milestone on the Tsarskoye Selo road appeared in 1774 on the bank of the Fontanka at the exit of the Obukhovsky bridge. The final pole was installed in 1775 on the outskirts of Tsarskoye Selo garden. Both obelisks have survived to the present.
The height of the pillar is 6.4 meters. The inscription on it reads: "from Tsarskoye Selo - 22/2, from Moscow - 673/2". This is a distance in versts (the traveling verst was equal to 500 fathoms - 1.0668 kilometers). The two in the denominator means a distance of 2 versts from the pillar to the Main Post Office of St. Petersburg.
The south and north sides of the first milestone on Fontanka serve as dials of a sundial with a metal oblique rod and numerals for time. On this dial today you can find out the present time, which differs from the maternity, added by the Soviet authorities, according to which we live.
Индивидуальные экскурсии по городу и пригородам на автомобиле и минивэне
Петербург для тех, кто ценит комфорт и внимание
Заказать