Знаменитое здание
Vasileostrovskaya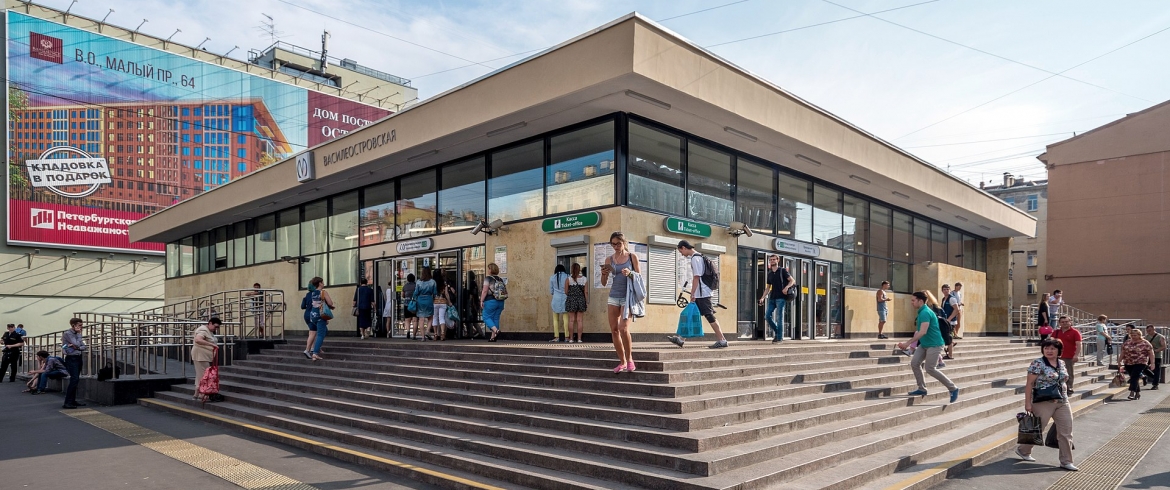 Address
the intersection of the Middle Avenue and the 7th line of V.O.
Architects
A.S. Getzkin, V.P. Shuvalova (pavilion), A.Ya. Macheret, A.I. Pribulsky, L.S. Chupina, engineer V.I. Akatov (underground hall).
Station of the 3rd (Nevsko-Vasileostrovskaya, Green) line was opened on November 3, 1967 as part of the Vasileostrovskaya section - Alexander Nevsky Square. The station received its name by Vasilievsky Island.
Pavilion "Vasileostrovskaya" was built according to the project of architects A.S. Getzkina, V.P. Shuvalova and engineer V.I. Akatova. It has a quadrangular shape and is elevated 11 steps above the ground - to avoid flooding the station in case of floods.
The lobby's cash-escalator hall is very small, there is a crush here during rush hours, so most of the entrance doors are closed, passengers are allowed in portions, and a queue is formed on the steps to the station.
Vasileostrovskaya is one of 10 closed-type stations in St. Petersburg, the so-called horizontal elevator. It has no side platforms, the central hall is fenced off from the paths by a wall with sliding doors, like in an elevator, through which the landing is made.
The underground hall was designed by architects A.Ya. Machereta, A.I. Pribulsky, L.S. Chupina and engineer V.I. Akatova. It is decorated in a simple, laconic style: the walls are faced with white marble, the floor is made of gray granite, and above the doorways there is a frieze made of smalt of blue-green tones.
Starting from the Vasileostrovskaya station, from Sredny to Bolshoy Prospect V.O. there is the pedestrian zone "Andreevsky Boulevard", one of the most beautiful in St. Petersburg. Street musicians often perform here, city festivals take place.
For almost 50 years Vasileostrovskaya has been the only metro station on this island (the neighboring Primorskaya is located on the Decembrists Island). Only on May 27, 2015, a second station appeared on Vasilievsky Island - Sportivnaya-2, located on the 5th (Frunzensko-Primorsky, Violet) line.