Church
Church of the Assumption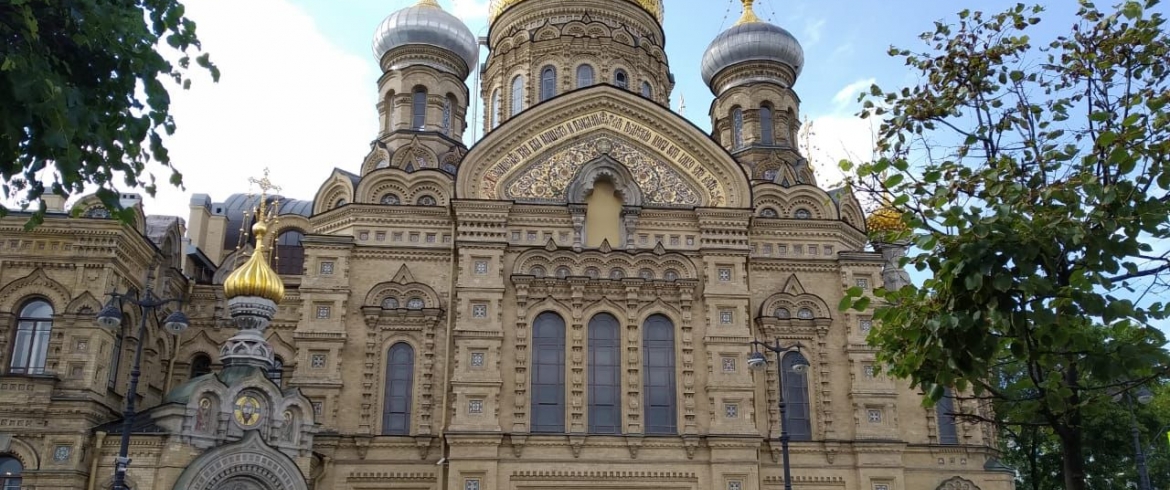 Address
Lieutenant Schmidt's embankment, 27
Years of foundation
1895—1897
Active Orthodox church
From the Annunciation Bridge, which leads to Vasilievsky Island from the center of St. Petersburg, the temple of the Assumption of the Blessed Virgin Mary is well seen. The temple belongs to the metochion of the Kozelskaya Vvedensky Optina desert. Historically, this place belonged to various monastic monasteries: in the middle of the 18th century to the Holy Trinity Sergius Monastery, then to the Pskov Bishops' House. In 1875 the ancient metochion became part of the Kiev-Pechersk Lavra.
By the end of the XIX century, the house and church of the farmstead were decaying much, the small temple could hardly accommodate the worshipers. The new temple dedicated to the Assumption of the Blessed Virgin Mary and the Monks of Anthony and Theodosius of the Kiev-Pecherskys was laid in 1895 according to the project of architect V.A. Kosyakov, the author of the Naval Cathedral in Kronstadt, the Church of the Merciful Mother of God on Bolshoy Prospekt and the Kazan Cathedral of the Novodevichy Resurrection Monastery.
The reconstructed Podvorsky complex included the Assumption Church, a two-story building on the high base of the Metropolitan Church, brotherly outbuildings, the house of the clergy, forming the yard space, office buildings and two gardens.
In the Soviet years, the church was closed and turned into a warehouse. All church property was destroyed, only the exterior decoration of the church survived. In 1961, the first ice rink with artificial ice was opened in the church building, which also had a disastrous effect on the state of the architectural monument.
In 1991 the church was returned to the Vvedensky Stavropegic Monastery of Optina Pustyn.
Индивидуальные экскурсии по городу и пригородам на автомобиле и минивэне
Петербург для тех, кто ценит комфорт и внимание
Заказать