Church
Troitse-Izmaylovsky Cathedral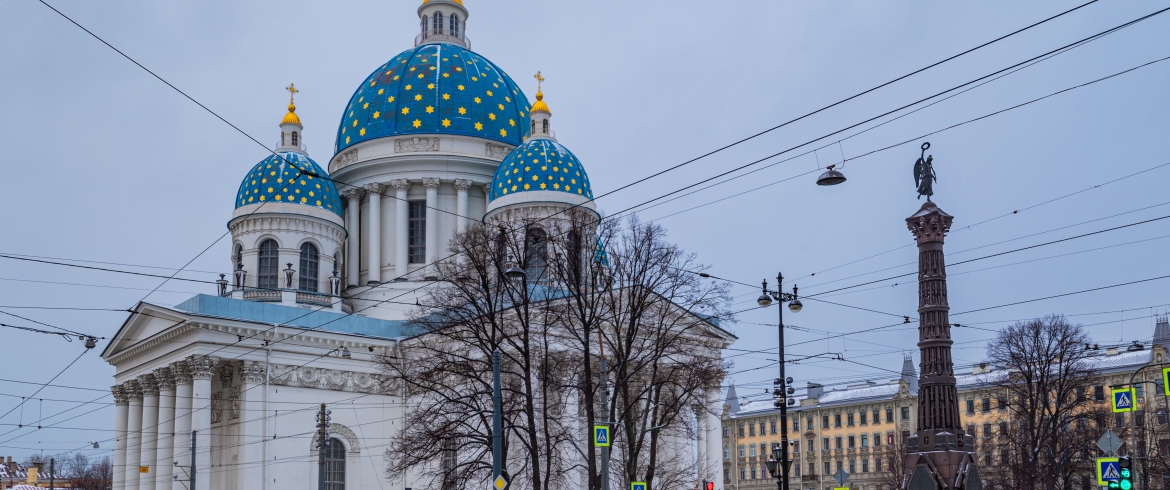 Address
Izmaylovsky ave., 7А
Active Orthodox church
Every citizen of St. Petersburg knows the majestic snow-white cathedral with blue domes, which is located on Izmailovsky Prospekt just behind the Fontanka river. The church is a compositional center of the Trinity Square and one of the four major historical monuments of St. Petersburg along with the St. Isaac's Cathedral, the Admiralty and the Peter and Paul Fortress.
The Troitse-Izmaylovsky cathedral and the triumphal column located on its territory, Monument of Fame in memory of the Russian-Turkish War of 1877-1878, top the list of the most beautiful historical military church ensembles in Russia.
In the XVIII century a wooden church of the Life Guards of the Izmailovsky regiment was located on the site of the current cathedral. The church was seriously damaged by the flood in 1824. In 1828, the construction works on a new stone church by design of V.P. Stasov began.
The Troitse-Izmailovsky cathedral was the largest cathedral in Russia as of the time of its consecration (the St. Isaac's cathedral was still under construction at that times). The height of the church is 80 meters. It can accommodate 3000 people. According to personal instructions of Nicholay I, the cupolas of the cathedral were painted with golden stars on a blue background similar to the cupolas of the Archangelskiy Cathedral in Moscow and the Tver cathedral in Tver.
Индивидуальные экскурсии по городу и пригородам на автомобиле и минивэне
Петербург для тех, кто ценит комфорт и внимание
Заказать