Знаменитое здание
Technological Institute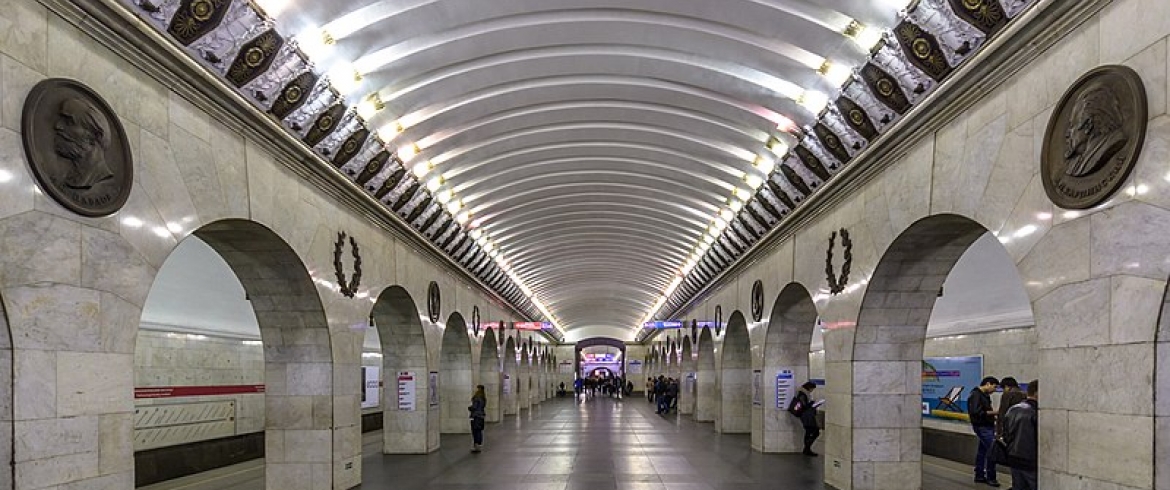 Address
The intersection of Moscow and Zagorodny Avenues
Years of foundation
1955, 1961
Architects
A. M. Sokolov, A.K. Andreev (1st hall), A.I. Pribulsky, A.Ya. Macheret, V.V. Gankevich (2nd hall)
The Technological Institute station is located on two lines: the 1st (Kirovsk-Vyborg, Red) and the 2nd (Moscow-Petrogradskaya, Blue).
The first hall of this metro station on the "Red" line was opened on November 15, 1955 as part of the first metro line. The second hall was opened in April 1961 along with the opening of movement along the Blue Line.
The station received its name from the nearby Technological Institute. The lobby of the station is built into the building of the St. Petersburg Metro Office, located on the corner of Moskovsky and Zagorodny Avenues and built in the form of a semicircular monumental three-story building, whose facade is decorated with a long colonnade of tall half-columns with flutes. The building was built on the site of the house demolished for the needs of the future metro N.M. Ruleva.
At the entrance to the lobby there is a round entrance plan with a high dome. From the cash rooms, two different escalators lead into two underground halls of the station.
The lobby and the first hall of the station were designed by architects: A. M. Sokolov and A.K. Andreev, the design theme is the achievements of Russian science. The hall is decorated with 24 bas-reliefs of prominent Russian and Soviet scientists.
The second room is decorated in a simple functional style. Architects A.I. Pribulsky, A.Ya. Macheret and V.V. Gankevich placed chronological inscriptions on the successes achieved by Soviet science and technology from 1920 to 1979 on marble pylons lined with marble.
Technological Institute is the first and so far the only operating cross-platform hub of the St. Petersburg metro: transfers to trains going in one direction are made by switching to another platform in the same hall. In order not to get confused with transfers, we advise you to carefully look at the signs in the underground lobby!