Palace
The Stroganov palace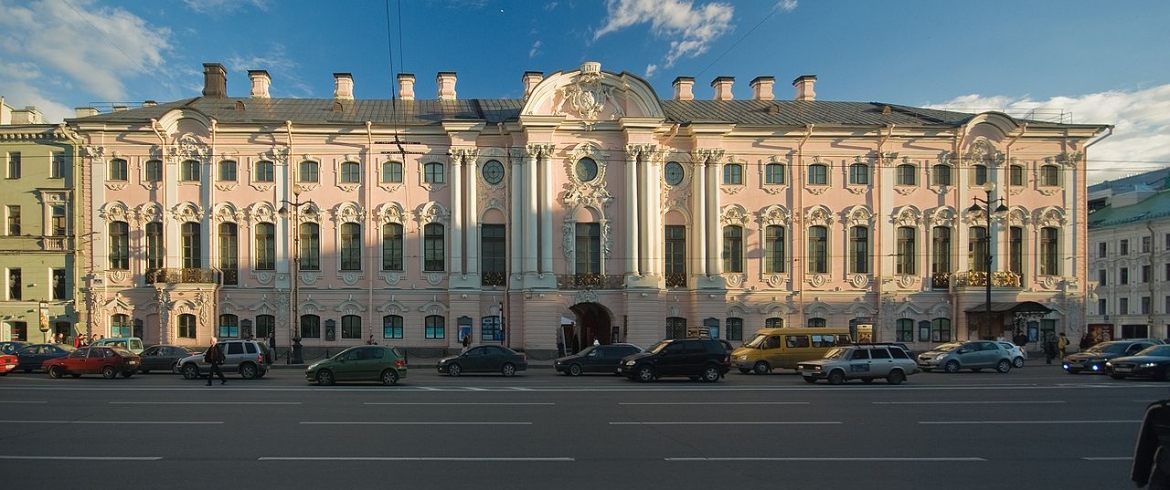 Address
Nevsky prospekt., 17
Monday, Wednesday, Friday, Weekend
10:00 – 18:00
Tuesday
Closed
Thursday
13:00 – 21:00
Years of foundation
1753-1754
Ticket price
for adult visitors - 350 rubles, for schoolchildren, students, pensioners - 150 rubles.
The Stroganov palace was constructed in 1753-1754 at the crossing of the Moika River and Nevsky Avenue. The architect Rastrelli put together the two existing here buildings, belonging to the Stroganovs, with one baroque style façade. Main palace interiors were executed in the same style as well.
The architect designed the palace in a way that both facades (the one facing Nevsky Avenue and another one facing Moika River Embankment) have equal composition. In the center there is a portico decorated with the Stroganovs' coat-of-arms under a baronial crown on the fronton. Rastrelli's Mirror Gallery and Gala Staircase, adorned with mirrors and gilded sculpture, have not survived. However, the Grand Hall, intended for balls and concerts, astonishes everybody with its splendor until present days. The highlight of the hall is a huge plafond painted by a famous Italian artist Giuseppe Valeriani. The plafond occupies all the surface of the ceiling.
Throughout almost two centuries of history of the Stroganov Palace, its interiors have been repeatedly reconstructed in accordance with the changing fashion and the needs of the owners. More than a dozen architects took part in the creation of its interiors, including Andrei Voronikhin, Peter Sadovnikov, Ivan Kolodin, Karl Rossi and other masters.
Many events connected to Russian history took place in the Stroganov Palace. Its Great Hall received the movers of National Library of Russia foundation in the 1760s. In presence of Empress Catherine II here were elected the deputies to the Commission responsible for drafting of The New Statement of Legal Principles.
After the revolution the building was nationalized. The Stroganovs' collections of art were divided between different museums of Russia and partly sold abroad. In 1988 the palace was transferred to the Russian Museum.
Индивидуальные экскурсии по городу и пригородам на автомобиле и минивэне
Петербург для тех, кто ценит комфорт и внимание
Заказать