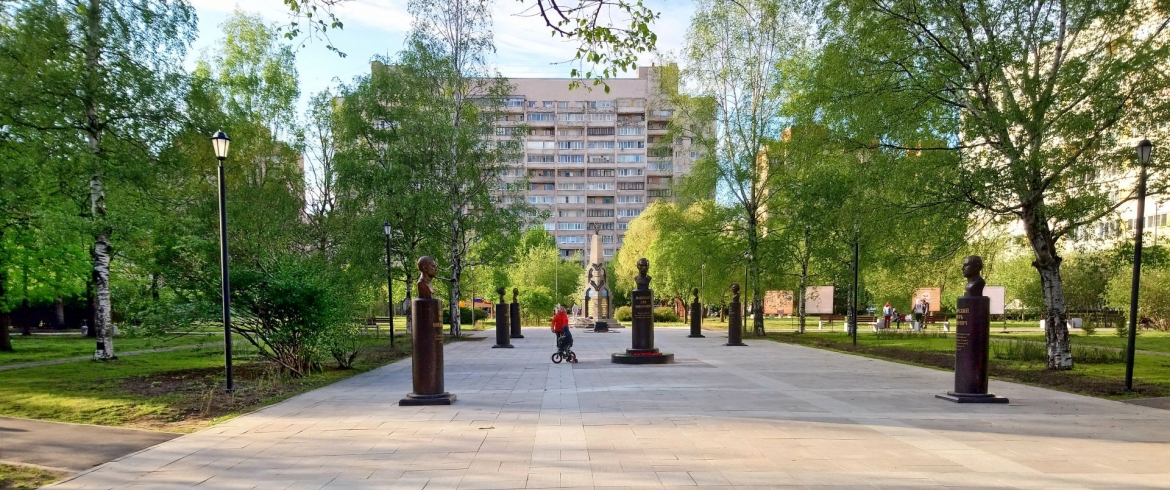 Address
Aerodromnaya st.., 11-13
Year of foundation
1910, 1970th
The area of the park
1,67 ha
The history of this park in the Primorsky "sleeping" district of St. Petersburg goes back to the beginning of the 20th century. It was defeated on the territory of the former Commandant airfield - the first airfield of the Russian Empire, at the very place where the aviator Lev Makarovich Matsievich (1887–1910) died in a plane crash.
On September 24 (October 7), 1910, Captain Matsievich performed with demonstration flights at the All-Russian festival of aeronautics in St. Petersburg. On this day, he made several flights in his "Farman", drove senior officers, influential persons. Before the last flight of Matsievich, the adjutant of the chief of Russian aviation, Grand Duke Alexander Mikhailovich, conveyed a wish to show some aviation achievement. Matsievich decided to climb to the highest possible height. Exactly at 18 o'clock his plane began to fall apart in the air in front of the shocked spectators ...
Matsievich became the first victim of a plane crash in the Russian Empire. The aviator was buried as a national hero, the streets of St. Petersburg were filled with people, the Krechet airship flew over the funeral procession. Matsievich was buried at the Nikolskoye cemetery of the Alexander Nevsky Lavra. His death led to the invention of the knapsack parachute by Gleb Kotelnikov. The poem by Alexander Blok "Aviator" is dedicated to the last flight of Lev Matsievich.
The place of death of the aviator was initially marked with a wooden cross, which in 1912 was replaced by a black stone slab in the form of a gravestone with a relief cross, the work of the architect I.A.Fomin.
In the 1960s, flights from the Commandant airfield ceased. Since the early 1970s, massive housing construction has been launched at the airport itself and adjacent territories, while local residents have managed to preserve a memorial plate. Then the square was laid out.
The square was improved several times. The most recent renovation was completed in May 2019. An aviation-themed playground was created here, busts of Russian pilots, inventors and designers were installed on the previously prepared base columns: Lydia Zvereva, Gleb Kotelnikov, Mikhail Efimov, Vladimir Lebedev, Ivan Orlov and Igor Sikorsky. A bust of Lev Matsievich rises in the center of the site.
Индивидуальные экскурсии по городу и пригородам на автомобиле и минивэне
Петербург для тех, кто ценит комфорт и внимание
Заказать