Знаменитое здание
Sennaya Square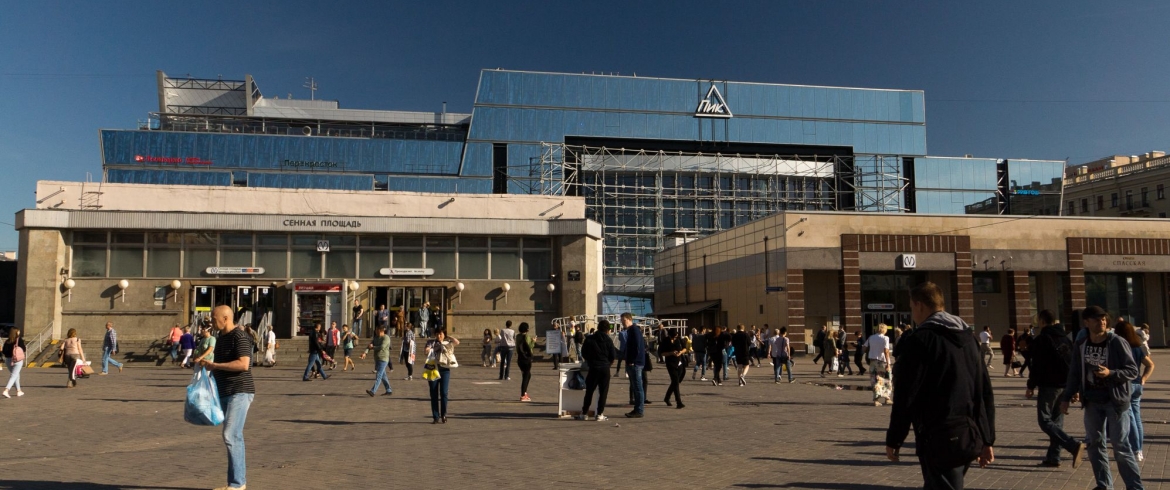 Architects
A.S. Getzkin, V.P. Shuvalova, A.I. Pribulsky, A.Ya. Macheret, V.V. Gankevich
Station of the 2nd (Moscow-Petrograd, Blue) line was opened July 1, 1963 as part of the Technological Institute - Petrogradskaya section. The name was given by the square of the same name, which until July 1, 1992 was called Peace Square. When the historical name was returned to her, the station was also renamed.
The station was built on the site of the Assumption Church of the 18th century, demolished in 1961, known as the Savior on Haymarket. The pavilion was designed by architects A.S. Getzkina and V.P. Shuvalova, an underground hall designed by A.I. Pribulsky, A.Ya. Macheret and V.V. Gankevich. The design of the station is simple, the pylons are decorated with marble, the track walls with blue ceramic tiles (the symbolic color of the world).
The station pavilion initially had a large concrete visor with an area of about 50 square meters above the entrance. In the evening of June 10, 1999, the visor collapsed, 7 people were killed. To prevent such tragedies, the Sennaya pavilion was rebuilt, and the visors at some other stations were removed.
From the Sennaya station, you can go to the Sadovaya station of the 5th line (Frunzensko-Primorsky, Violet) lines and the Spasskaya station of the 4th (Pravoberezhnaya, Orange) line. This is the first and so far the only three-station interchange hub in the St. Petersburg metro. Crossings are long intricacies of pedestrian tunnels, stairs and escalators, recalling the Moscow metro.
The place where the Sennaya station is located is shrouded in legends - it is believed that it is here that one of the peaks of the mysterious Peter Bermuda Triangle lies, where were the heroes of many works by F.M. Dostoevsky and where mystical phenomena are still sometimes observed.