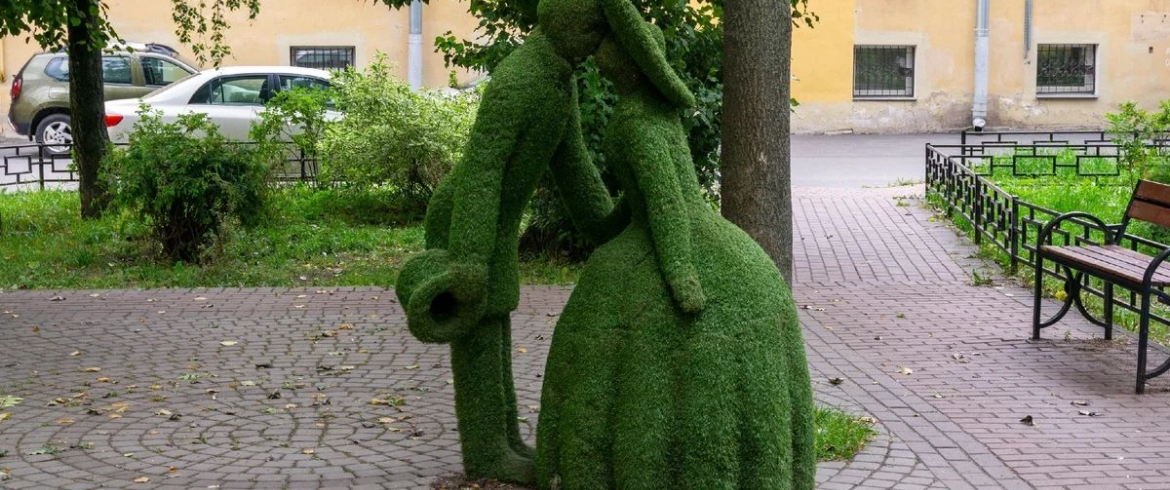 Address
Fontanka River emb., 90, in the yards
Year of foundation
end of the 18th century (barracks), 2015 (yard improvement)
Looking beyond the facades of house 90 along the Fontanka embankment, you will find a whole garden located in the courtyards between Fontanka, Gorokhovaya and Borodinskaya streets. Locals call him "Courtyard of lovers" or "Garden of love".
Once there were barracks of the Life Guards of the Moscow Regiment, and the square between them was the former parade ground of these barracks. And the garden acquired a romantic name after beautification, which ended in 2015, when a green sculpture of two kissing people appeared in the northern part of the courtyard, closer to Fontanka. A man holds a bowler hat in his hands, and a lady is dressed in a magnificent dress. From afar, you might think that the composition is made of green grass, but in fact it is a synthetic material, so the figures look the same in winter and summer.
Not far from the lovers there is another funny sculpture: an openwork metal griffin sitting on a concrete pedestal with elements of classical Petersburg architecture.
You can enter the yards from the side of Borodino or Gorokhovaya street.
Индивидуальные экскурсии по городу и пригородам на автомобиле и минивэне
Петербург для тех, кто ценит комфорт и внимание
Заказать