Знаменитое здание
Pushkinskaya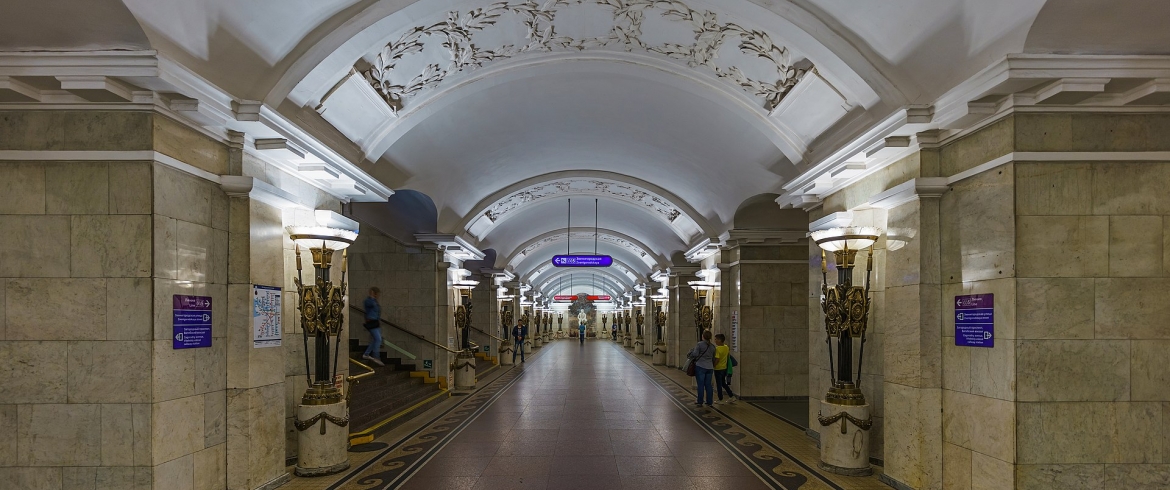 Address
Zagorodny pr., 50
Architects
V.A. Petrov, L.M. Polyakov (underground hall), A.A. Grushke, A.S. Getzkin, V.P. Shuvalova, engineer S.M. Epstein.
Station of the 1st (Kirov-Vyborg, "Red") line, one of the first metro stations in St. Petersburg. It was built as part of the first stage of the Avtovo metro station - Uprising Square, but due to technical problems it was opened six months later than others - on April 30, 1956.
The pavilion of Pushkinskaya station was designed by architects A.A. Grushke, A.S. Getzkina, V.P. Shuvalova and engineer S.M. Epstein.
The station got its name due to the proximity of the Vitebsk station, from where you can go to the city of Pushkin (Tsarskoye Selo). The design of the station is also associated with the name of the great Russian poet: it is entirely devoted to Pushkin and is considered one of the most beautiful in the St. Petersburg metro.
The underground hall was designed by architects V. A. Petrov and L. M. Polyakov. The pylons are faced with white marble, the floor is lined with dark red granite. A pattern of black and white stone is laid out along the edge of red granite. Black metal floor lamps with crystal bowls emitting light are installed in niches. Lamps are decorated with gilded stylized shields, spears and other decorative details.
At the end of the central underground hall is a statue of A.S. Pushkin - work by Mikhail Anikushin. Behind it is a panel of the artist M.A. Engelke, depicting a corner of Tsarskoye Selo Park. The panel is illuminated from below by fluorescent lamps.
This is the only St. Petersburg metro station, which, being located near the station, does not have access to the station building. From Vitebsk station, you can take an electric train to the palaces and parks of Pushkin and Pavlovsk.