Park
Place of the appearance of the Theotokos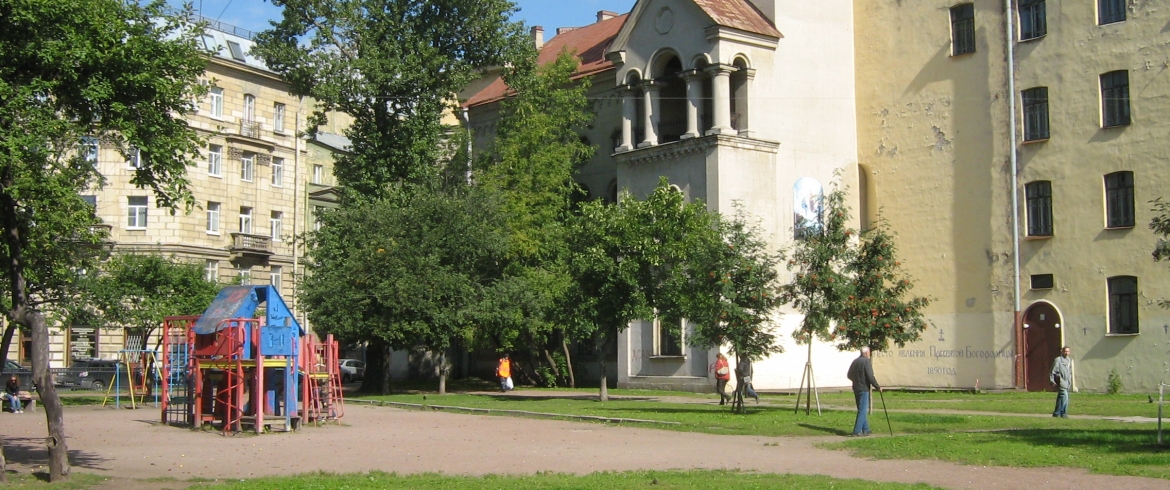 Near the wall of the house in the park at the intersection of Bolshaya Pushkarskaya, Vvedenskaya and Voskova streets you can see wooden walkways and the inscription "The Place of the Birth of the Theotokos in 1890". This building is a former shelter for seriously ill children of the Brotherhood in the name of the Queen of Heaven with the chapel of the icon of the Mother of God "Joy of All Who Sorrow".
The miraculous phenomenon of the Mother of God to the boy Nikolai Grachev happened in December 1890 in a house on the Petrograd side. A terribly ill boy could not be helped by the earthly doctors, and he prayed to a heavenly doctor. The Most Holy Mother of God appeared to him and told him to go to the other end of the city to the miraculous icon of "Joy of All Who Sorrow" (which was at that time in the church of the glass factory on the present Prospect of Obukhovskaya Oborona).
Praying at the image of the Mother of God, the boy, chained to the carriage, got up and walked back home. Hundreds of people became witnesses of the miracle. Nikolai Grachev became a hieromonk and served in a temple, arranged on the second floor of the house, where the Queen of Heaven appeared to him. In 1900 he founded a shelter here.
Now there is a music college in this building. The icon of the Mother of God "Joy of All Who Sorrow (with pennies)" is located in the Trinity Church "Easter cake and Easter".
Индивидуальные экскурсии по городу и пригородам на автомобиле и минивэне
Петербург для тех, кто ценит комфорт и внимание
Заказать